Press release BoxID: 846398 (BINDER GmbH)
BINDER GmbH
Im Mittleren Ösch 5
78532 Tuttlingen,
de
http://www.binder-world.com
Contact person
Dorothea Fichter-Fechner
+49 (7462) 2005-632

LED-Lichtleisten für Forschungsarbeiten mit niedriger Lichtintensität
Ab sofort gibt es als Zubehör für alle Kühlbrutschränke, Brutschränke und Klimaschränke optional die neuen BINDER LED-Lichtleisten / Diese kommen bei biologischen Anwendungen mit niedrigen Lichtintensitäten zum Einsatz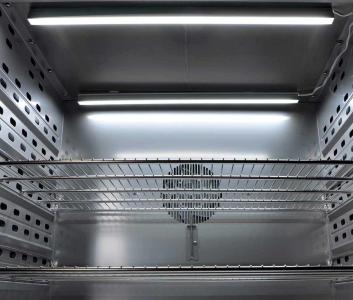 (PresseBox) (
Tuttlingen

,
)
Ab sofort sind alle Kühlbrutschränke, Brutschränke und Klimaschränke von BINDER optional mit flexibel einsetzbaren LED-Lichtleisten erhältlich. Sie werden in den Längen: 30 cm, 50 cm und 90 cm angeboten. Die Lichtleisten sind spritzwassergeschützt (IP 65) und können bei –5°C bis 60 °C betrieben werden. Ihre Beleuchtungsstärke liegt bei 600 Lux. Die Lichtleisten kommen überall dort zum Einsatz, wo biologische Anwendungen niedrige Lichtintensitäten erfordern. "Gerade im Bereich der Grundlagenforschung, der Entwicklungs- und Evolutionsbiologie oder der Genetik ist für den Gedeih vieler Modell-Organismen wie beispielsweise Drosophila, Caenorhabditis oder Zebrafisch, aber auch für Moose oder die Samenkeimung höherer Pflanzen eine schwache Lichtdosis vonnöten", erklärt Biologe Dr. Jens Thielmann, Produktmanager bei BINDER. Um naturnahe Bedingungen zu schaffen, ist bei Forschungsarbeiten mit diesen Organismen zudem oftmals ein Tag-Nacht-Rhythmus von Vorteil. Dieser kann über das dazugehörige Steuergerät mit integrierter Zeitschaltuhr programmiert werden. Mit einem Dimmer wird die Lichtintensität von 0 % bis 100 % vorgegeben. An einem Steuergerät können bis zu vier Lichtleisten angeschlossen werden. Mit Magneten wird das Gerät kinderleicht an der äußeren Gehäuseseitenwand angebracht. Die Lichtleisten werden als Zubehör in zwei Paketen angeboten. Das Basispaket besteht aus zwei Lichtleisten, einem Steuergerät und Befestigungsmaterial, bestehend aus Clips und Power Strips. Das Erweiterungspaket beinhaltet zwei Lichtleisten sowie Befestigungsmaterial. Die Lichtleisten bestehen aus hochwertigen weißen LED-Modulen der Lichtfarbe 6.500 K (cool daylight), die in einer Aluminiumprofilschiene eingegossen sind. Sie können im Innenraum der Schränke flexibel positioniert und mit einem Kabel an das Steuergerät angeschlossen werden. Die Kabel werden bevorzugt durch eine Durchführung gelegt, können aber auch durch die Türdichtung geführt werden
The publisher indicated in each case is solely responsible for the press releases above, the event or job offer displayed, and the image and sound material used (see company info when clicking on image/message title or company info right column). As a rule, the publisher is also the author of the press releases and the attached image, sound and information material.
The use of information published here for personal information and editorial processing is generally free of charge. Please clarify any copyright issues with the stated publisher before further use. In the event of publication, please send a specimen copy to
service@pressebox.de
.