Technological development of gas engines
The efficiency of internal combustion engines for decentralized power and heat supply is continually evolving. In the future, a conflict situation may arise as a result of between high efficiency and the requirements of emission reductions.

Rastatt

, (PresseBox) -
No other technology is used in Europe in CHP plants more often than gas engines. In Germany, the gas engine technology among other things dominates thanks to a very strong expansion of gas networks and applications in the field of renewable energy (biogas, sewage gas, landfill gas and wood gas).

The electrical efficiency values of large engines (2-4 MW) have increased In the last two decades by 8-10 %. Electrical efficiency factors of more than 48% in megawatt systems are now state of the art.

Even the smaller power classes can demonstrate substantial increases in efficiency. There are motor CHP plants on the market with a power range of up to 250 kW now showing electrical efficiency of over 42%.

New requirements necessary due to stricter emission limits
In Germany, the permissible emission or immission installations are subject to authorization set by (among others) the "Technical Instructions on Air Quality" (TA Luft). The currently valid TA Luft is an amendment and expected to be finalized at the latest by 2017. Discussions have been directed at particularly stringent requirements for nitrogen oxides (NOx) and formaldehyde levels.

What impact stricter limits on the electrical efficiency of CHP plants will have, cannot yet be definitively conclusive. Nevertheless, a conflict appears inevitable between climate protection through enhanced energy efficiency and environmental protection by means of lower emission values.

Flexibility requirements for an energy transition
Stationary engines should in future offset the fluctuating performance of renewable energies such as photovoltaics and wind power. In Germany the first engine plant with 20 engines á 9.5 MW is being currently built (https://www.bhkw-infozentrum.de/... - only available in German).
Power storage also constitutes an option for flexibility. While in Japan power storage elements with a capacity of 35 MW have already been realized, the largest available power storage units are those in a German Battery Park in Schwerin with an output of 5 MW.

New technological developments in 2016
The new market and technology developments in the years 2015/2016 will be included and covered by three presentations at the Annual Cogeneration Congress 2016 (BHKW 2016) taking place on the 19th -20th of April 2016 at the Congress Centre in Dresden. A talk on power storage technologies as well as the presentation of the first fuel cell power plant in Germany in the megawatt class provide additional interesting aspects of future CHP use in Germany (http://www.bhkw2016.de).
Website Promotion
BHKW-Infozentrum GbR
Since 1999 the BHKW-Infozentrum (https://www.bhkw-infozentrum.de) has been providing information about new technologies in the field of alternative and renewable energy production by cogeneration (CHP) free of charge on numerous websites and in professional journals. In addition, any changes in the legal framework for co-generation plants and the equipment of combined heat and power systems (CHP) is be explained (http://www.cogeneration.de).
On October 15, 2015, the redesigned BHKW-Infozentrum site went online.
From summer 2016 an interactive CHP database with comfortable search function will be available online on the BHKW-Beispiele.de page (http://www.bhkw-beispiele.de).
In addition, anyone interested can pick out the technical data, the investment costs of each power output size using the CHP characteristics Tool 2016 (http://www.bhkw-kenndaten.de) from a database of approximately 1,300 CHP registered modules.
Almost weekly the currently largest internet CHP Newsletter informs more than 11,000 subscribers for free on the to date largest internet based CHP Newsletter (www.bhkw-Infozentrum.de/...).
In the social media area the experts of the BHKW-Infozentrum post news regularly on Facebook (www.facebook.com/... ), on Twitter (www.twitter.com/...) and in the XING group "CHP - energy supply of the future" (https://www.xing.com/...).

Press releases you might also be interested in
Weitere Informationen zum Thema "Energy / Environment":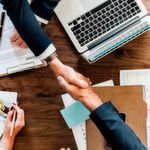 Deutsche Telekom und SAP schließen IoT-Partnerschaft
Die Deut­sche Te­le­kom und SAP bau­en ih­re Zu­sam­men­ar­beit wei­ter aus und wol­len sich künf­tig ge­mein­sam dem In­ter­net der Din­ge (IoT) für Lo­gis­tik in Echt­zeit wid­men.
Weiterlesen