Galéo 200 by POSLIGNE®: Presenting graceful vertical lines and reduced energy consumption at the POS!

Lisses - Fürstenfeldbruck

, (PresseBox) -
the AURES Group, which manufactures POSLIGNE® point of sale terminals and systems, proudly presents the Galéo 200, the latest version of its integrated, vertical-concept EPOS equipment.

Developed predominantly for the tough conditions encountered in catering, takeaway and food outlets, its fanless and vertical design makes it particularly suitable for the challenges of quick and continuous cash desk operations by staff in standing positions.

- Galéo 200 features enhanced performance, with the integration of an INTEL Atom Pineview dual-core D525 processor for a fanless IT system, highly resistant to dust, flour, crumbs and accidental splashes - typical hazards in catering and hospitality environments, food services, bakery outlets and grocery stores.

- The new Galéo 200 incorporates the HSD Exclusive (Hardware Status Display) management utility, a POSLIGNE®

innovation. This utility software provides real-time display (in 3 languages) of key system status data. Details requested by users are displayed on the terminal's touch screen (processor temperature, power supply readings and so on...).

This solution also enables a summary e-mail report for an entire batch of terminals to be sent out automatically (for instance, to a store chain's Information Systems Manager or Hotline) for as many units and locations as required, providing enhanced IT monitoring and security.

The Galéo 200 is available in two colours: pearl and graphite.

It is also available to buy as a PACK, complete with its dedicated thermal receipt printer, the TRP100 II.

Galéo 200 EPOS terminal by POSLIGNE®: key features

- HSD Exclusive: integrated multilingual Hardware Status Display solution (interface and e-mail alert system providing full details of system status in real time, for enhanced IT security)
- Atom Pineview Dual-Core D525 processor for a fanless system - ideal for harsh environments
- 90% more process power than its predecessor
- reduced energy consumption (Atom processor) with lower carbon footprint
- Space-saving vertical EPOS concept
- Enhanced stability
- Front-mounted USB port
- Optional SSD flash drive
- Integrated customer display
- All cabling inside base (no visible wires).
AURES Technologies
Founded in 1989 and listed on Euronext Paris since 1999, the Group manufactures point of sale terminals and systems, as well as related peripherals, which it markets under the POSLIGNE® brand.

Acclaimed for its excellent reliability, this PC-based, open-system hardware is designed to provide management and till functions in specialist food and non-food sectors, retail outlets, superstores, the catering and hospitality industry and all other points of sale and service.

Offering EPOS hardware featuring innovative designs and a wide range of fully interchangeable colours, the AURES Group is positioned as the most creative leader in its field.

Distribution of POSLIGNE® systems is based out of AURES' headquarters in France, the Group's three subsidiaries in the UK, Germany and the USA, and a distributor network present in over 50 countries.
Press releases you might also be interested in
Weitere Informationen zum Thema "Hardware":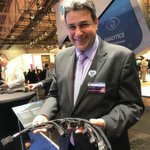 Open19 Foundation versus Open Compute Project (OCP)
Der Markt für Da­ten­cen­ter-Hard­wa­re ist ge­n­au­so lu­k­ra­tiv wie hart um­kämpft. Doch an­ders als Hy­per­s­ca­le-Be­t­rei­ber ha­ben ein­zel­ne Re­chen­zen­t­ren bran­chen­üb­li­cher Grö­ße kaum Ein­fluss auf die Pro­dukt­ent­wick­lung durch ih­re Hard­wa­re-Lie­fe­r­an­ten. Zwei In­i­tia­ti­ven — das Open Com­pu­te Pro­ject (OCP) und Open19 — wol­len Ab­hil­fe schaf­fen, sind sich aber nicht ei­nig, wie.
Weiterlesen