Lisses/France/Fürstenfeldbruck/Germany

, (PresseBox) -
March 2 - 4, 2010 Stand E43 - Hall 14 Düsseldorf Exhibition Centre (Germany)

AURES Technologies, the manufacturer of POSLIGNE® point of sale terminals and peripherals (EPoS), will attend EuroCIS 2010, the European Trade Fair for IT in Security and Retail, being held in Düsseldorf from March 2 - 4.

"EuroCis is a major trade show for AURES in Germany and Europewide", explained Mr Hilmar BUCHWALD, Head of the AURES Group in Germany and German speaking regions. "It is an essential meeting point where we traditionally unveil our most innovative new EPoS range for the year to come".

The Group will be premiering the following new POSLIGNE 2010 equipment:

- ELIOS by POSLIGNE®: a new integrated EPoS terminal featuring an ultra slim design and low power consumption

Beneath its elegant, profiled contours and slimline, minimalist style, ELIOS also features an ultrathin base housing a CPU which combines reliability and low power consumption, thanks to its 1.6 GHz INTEL Atom N270 processor.

- With its 15inch touchscreen and ultracompact format (6.3kg), ELIOS can be installed in a trice at any cash desk and is perfect for a broad range of styles and sectors in retail and services.
- Its fanless design makes it highly reliable and robust even in adverse environments.
- The metal base offers maximum stability and also acts as a heatsink.
- Protected by a "Black piano'' elegant polycarbonate flip cover, the hard disk is located in a completely separate compartment to the motherboard: this also helps to minimise the risks of the system overheating. Cables are routed out of sight, concealed in the base.
- Equipped with proprietary embedded HSD software, ELIOS is capable of emailing data autonomously and in real time, providing system status details as required: for instance, to the store chain's Information Systems Manager. This provides such users with all the key information relating to the workings of the hardware pool - temperature and power feed voltage readings, for instance.

ELIOS' key advantages

- 1.6 GHz INTEL Atom N270 processor offers reliability and lower power usage: a mere 2.5 watts
- 15" display: ELO resistive touchscreen
- Ruggedised, fanless design
- Steel base provides optimum stability and acts as a heatsink.
- Slimline, minimalist design / no messy cables (wiring is concealed in polycarbonate base)
- Hard disk and motherboard housed separately (minimising the risk of overheating)
- Toolfree access to the hard disk
- Multiple communication ports
- Optional magnetic card / RFID / biometric / Dallas key readers
- Embedded proprietary HSD software enables realtime, remote monitoring of the operating status of all deployed hardware

VESA Dual Screen solutions from POSLIGNE®: offering dynamic, userfriendly communications at the cash desk Combining two screens featuring VESA standard mountings, this Multimedia Pack has been designed to be installed on fixed or articulated arms and poles, freeing up space at the cash desk.

The ideal complement to digital signage, dynamic advertising displays and pointofsale promotions, this solution can be used for loyaltybuilding promotions, with images and text broadcast on the second screen facing the customer.

- OLC 15V, the main 15inch monitor, is a touchsensitive screen ideal for standard store management and till operations.

The unit's interchangeable clip system - available in the 9 POSLIGNE® colours - enables the screen to be matched to any style, visual identity or instore colour code.

- OLC 8.4V, the nontouchsensitive second screen, can be swivelled to an appropriate position. With its compact dimensions (8.4 inches diagonal; 220 x 175 mm), this screen is designed for digital signage and displaying promotional and advertising content to customers during cash desk operations.

Linked together with POSLIGNE®'s Poséo Retail PC, this VESA dual screen configuration offers an allin, longlasting, highperformance management and till system.

OLC 8.4V, the second LCD screen dedicated to digital signage and displaying promotional and advertising content, can also be used in standalone configuration mounted on a wall, pole or arm.

OLC 15V

15" resistive touchscreen pad (USB interface)
Brightness: 250 cd/m²
Resolution: 1024 x 768
Multiple retail-specific communication ports: PS2, serial/Com ports, USB, DC Jack, VGA,
External power supply
100 x 100 VESA standard mountings for installation on arms or poles - 4 M4 screws
Innovative design features flowing lines
2 basic colours (pearl and graphite) plus 9 interchangeable colour clips

OLC 8.4V

Non-tactile 8.4" LCD screen
Brightness: 250 cd/m²
Resolution: 800 x 600
External power supply
75 x 75 VESA standard mountings - 4 M4 screws
Dual feed cable (video and power feed in a single cable)
AURES Technologies
Founded in 1989 and listed on Euronext Paris since 1999, the AURES Group manufactures pointofsale terminals and systems, as well as related peripherals, which it markets under the POSLIGNE® brand®.

Acclaimed for its excellent reliability, this PCbased, opensystem hardware is designed to provide management and till functions in specialist food and nonfood stores, mass retail outlets and the hotel and catering industry.

With its exclusive designs and wide range of fully interchangeable colours, the AURES Group aims to be the most creative leader in this field of business.

Marketing of POSLIGNE® systems is handled by the AURES head office in France, the Group's three subsidiaries in the United Kingdom, Germany and the USA, and via a distributor network present in over forty countries.
Press releases you might also be interested in
Weitere Informationen zum Thema "Hardware":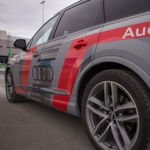 Wo Hardware zählt: KI mit System
Wer ern­ten will, muss säen — auch Künst­li­che In­tel­li­genz (KI) ist da kei­ne Aus­nah­me. Der Wett­lauf um die schlaus­ten KI-An­wen­dun­gen for­dert hoch­per­for­man­te Hard­wa­re der be­son­de­ren Art. Ei­ne CPU ist nicht al­les.
Weiterlesen