Logistics Day offers look behind scenes at Audi
Ingolstadt

, (PresseBox) -
.
- Insights into processes and careers in automotive logistics
- A wide range of events on offer at Audi
- Joining the initiative by the German Logistics Association (BVL)

Audi s participation in the nationwide "Logistics Day" on Thursday, April 17, 2008 will provide visitors with an exciting insight into automotive logistics. Under the motto "Logistics makes it possible", a series of talks and theme-based tours will be held, presenting the subject and offering information on career opportunities in the various professions at Audi Logistics.

AUDI AG in Ingolstadt is putting on a varied program of events with the overall title "Automotive Logistics with Success and Passion" aimed primarily at students, graduates and young professionals with a logistics background. "This is a great opportunity to present the dynamism and complexity of Audi Logistics to the next generation of potential employees. We will be giving our attendees an exciting look behind the scenes on the day," says Dr. Ernst-Hermann Krog, Head of Brand Logistics at Audi.

A series of talks entitled "The Logistics Division s role and current activities at Audi" will feature brief presentations, explaining several key areas of modern automotive logistics.

Following on from this, a number of guided theme-based tours will be held, which have been especially designed for visitors with a keen interest in logistics. Visitors can choose between three available tours.

The tour "Just-in-time from the Logistics Center to the assembly line" unravels the complex supply process using the example of wheel production for the Audi A3 section of the Production Division. The production process for the Audi TT is the subject of the second theme-based tour, "The Audi TT logistics process - from Ingolstadt to Györ." There is also an opportunity to discover the logistics behind production of the Audi A3.

The event "Career with Prospects" is especially for people with their sights set on a career in logistics and presents the various opportunities available at Audi from placements and dissertation projects to trainee programs, doctoral positions, and direct recruitment. The attendees will be able to speak directly to representatives of different departments to resolve any queries.

The objective of the nationwide Logistics Day is to give a wide audience an insight into the processes and professions of one of Germany s core areas of industrial expertise and enhance the public perception of the logistics sector. A total of some 160 events will reflect the diversity of logistics achievements. The initiative has the backing of a large number of businesses, organizations, associations and educational institutions. Dr. Krog sums up: "At Audi, we are offering a program to stir young people s interest in the exciting tasks that make up logistics."

All events at the Audi factory in Ingolstadt are free of charge and registration is obligatory. The number of places available is limited. Further information plus the registration form can be found on the website www.tag-der-logistik.de.
Audi AG
Die AUDI AG hat im Jahr 2007 insgesamt 964.151 Automobile verkauft und damit das zwölfte Rekordjahr in Folge erzielt. Mit Umsatzerlösen von ¤ 33.617 Mio. und einem Ergebnis vor Steuern von ¤ 2.915 Mio. erreichte das Unternehmen neue Höchstwerte. Audi produziert an den Standorten Ingolstadt, Neckarsulm, Györ (Ungarn), Changchun (China) und Brüssel (Belgien). Ende 2007 startete die Produktion des Audi A6 in Aurangabad in Indien. Das Unternehmen ist in mehr als 100 Märkten weltweit tätig. 100-prozentige Töchter der AUDI AG sind unter anderem Automobili Lamborghini Holding S.p.A. (Sant'Agata Bolognese/Italien) und die quattro GmbH (Neckarsulm). Audi beschäftigt derzeit weltweit rund 57.000 Mitarbeiter, davon 45.000 in Deutschland. Um den "Vorsprung durch Technik" nachhaltig zu sichern, investiert die Marke mit den vier Ringen jedes Jahr mehr als ¤ 2 Mrd. Bis 2015 will Audi die Anzahl seiner Modelle auf 40 deutlich erweitern.
Press releases you might also be interested in
Weitere Informationen zum Thema "Fahrzeugbau / Automotive":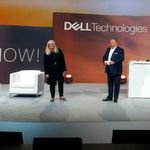 Digitalisierung erfordert nahtlose Kommunikation
Dells Ta­ges­ver­an­stal­tung The Next Now! In Mün­chen woll­te Hil­fe­stel­lung leis­ten auf dem Weg zur Di­gi­ta­li­sie­rung der Un­ter­neh­men in Deut­sch­land. Wel­che St­ra­te­gi­en und Rah­men­be­din­gun­gen er­wei­sen sich als güns­tig, was soll ver­mie­den wer­den?
Weiterlesen