Press release BoxID: 173938 (ANSMANN AG)
ANSMANN AG
Industriestraße 10
97959 Assamstadt,
de
http://www.ansmann.de
Contact person
Martin Hahn
+49 (6294) 4204-6323

Solar Handy Charger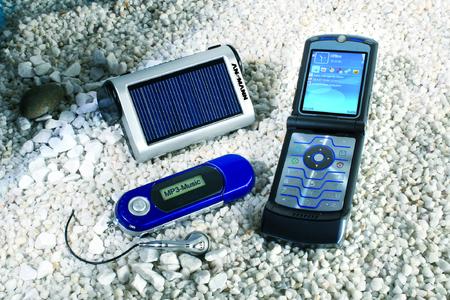 (PresseBox) (
Assamstadt

,
)
With the Solar Handy Charger ANSMANN AG is offering their first solar-powered charger. Now it is possible, to be completely independent from mains plug and DC car adapters. The Solar Handy Charger changes sun-power into electronic power. The energy-storage units are two NiMH Mignon rechargeable batteries. This device will be an emergency power supply for mobile phones, MP-3 Players or other small devices. The set includes adapter plugs for the most common mobile phones and for USB (5 V). The internal NiMH batteries will be charged by sun-power or by USB, for example from the computer. The Solar Handy Charger is very compact for easy storage. The set includes the adapters, a strap and rechargeable batteries. ANSMANN issues a guarantee of 3 years.
Für die oben stehenden Pressemitteilungen, das angezeigte Event bzw. das Stellenangebot sowie für das angezeigte Bild- und Tonmaterial ist allein der jeweils angegebene Herausgeber (siehe Firmeninfo bei Klick auf Bild/Meldungstitel oder Firmeninfo rechte Spalte) verantwortlich. Dieser ist in der Regel auch Urheber der Pressetexte sowie der angehängten Bild-, Ton- und Informationsmaterialien.
Die Nutzung von hier veröffentlichten Informationen zur Eigeninformation und redaktionellen Weiterverarbeitung ist in der Regel kostenfrei. Bitte klären Sie vor einer Weiterverwendung urheberrechtliche Fragen mit dem angegebenen Herausgeber. Bei Veröffentlichung senden Sie bitte ein Belegexemplar an
service@pressebox.de
.