Press release BoxID: 528221 (AMD GmbH)
AMD GmbH
Einsteinring 24
85609 Dornach b. München,
de
http://www.amd.com/
Contact person

+49 (89) 998370-17

Social Media Sharing During the 2012 London Olympics Opening Ceremonies Breaks All-Time Record for a Sports or Entertainment Event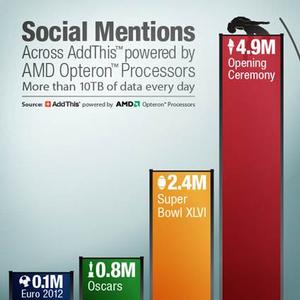 (PresseBox) (
London

,
)
With an estimated 4.95 million shares, the 2012 Olympic opening ceremonies became the biggest social sharing activity on record for a sports or entertainment event, surpassing the previous record set during Super Bowl XLVI by 106 percent based on data from AddThis, the world's largest social sharing platform used by over 14 million web domains and reaching 1.3 billion users each month. AddThis provides the sharing platform that is found next to most online content enabling people to post or link back through all of the most popular social media sites. The company uses 1,000 servers powered by AMD Opteron(TM) processors to manage the high volume of web traffic and data.
Für die oben stehenden Pressemitteilungen, das angezeigte Event bzw. das Stellenangebot sowie für das angezeigte Bild- und Tonmaterial ist allein der jeweils angegebene Herausgeber (siehe Firmeninfo bei Klick auf Bild/Meldungstitel oder Firmeninfo rechte Spalte) verantwortlich. Dieser ist in der Regel auch Urheber der Pressetexte sowie der angehängten Bild-, Ton- und Informationsmaterialien.
Die Nutzung von hier veröffentlichten Informationen zur Eigeninformation und redaktionellen Weiterverarbeitung ist in der Regel kostenfrei. Bitte klären Sie vor einer Weiterverwendung urheberrechtliche Fragen mit dem angegebenen Herausgeber. Bei Veröffentlichung senden Sie bitte ein Belegexemplar an
service@pressebox.de
.