Almeco presents the new range of absorber and reflector materials

San Giuliano Milanese, Italy

, (PresseBox) -
Vega Energy is the new range of absorber and reflector materials developed by Almeco, purpose designed to concentrate and optimize the harvesting of energy from solar radiation. They are produced in the recently constructed continuous PVD coating line in Bernburg, Germany.

Vega SP 195 / WR 193 and Vega SP 198 / WR 196 are the new mirror reflector products based on enhanced Aluminium or Silver coated Aluminium substrates for use in solar reflector systems. The SP materials combine very high levels of total and specular reflectance with excellent coating integrity, durability and U.V. resistance. These products are particulary adapted for daylighting applications where it is desirable to gather sunlight into interior environments in a controlled way. This technology allows maximization of lighting efficiency by using available sunlight radiation with considerable energy saving. The WR versions are designed to guarantee long life in external environments, assured in service by the application of a thin, highly transparent barrier coat.

"Worldwide, the research for renewable and clean energy sources – says Onorato Fiorentini, President of Almeco – is a growing necessity. Almeco has developed a new range of metal surfaces suitable to meet this market need. Vega SP and WR products are the new specular surfaces with total reflectance up to over 98% that can be used in the production of all those systems that require ultra reflective Aluminium: parabolic concentrators, or daylight systems that allow a considerable energy saving. Moreover we are interested to be part of the development of new projects in the solar energy sector. Therefore our collaboration with Enea, the Italian National Agency for New Technologies, Energy and the Environment is one of key components of our strategy".

Almeco has also developed two different absorber products: Vega AB127 and Vega AB189 to provide customers with the choice between traditional copper substrate absorber or specially treated aluminium. These products are studied by Almeco's R&D laboratories to resist high temperature and humidity, with excellent energy absorption, minimizing loss of heat. Vega AB127 and Vega AB189 are ideal for thermal collectors, modular panels of large surface area or multiple collector systems.

The Almeco Vega Energy range has been presented at Intersolar (Freiburg 21/23 June) Pav. N° 6, booth N° 6.2.76.
Weitere Informationen zum Thema "Energie- / Umwelttechnik":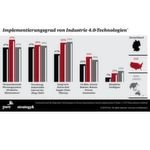 Digitale Transformation hat in Deutschland noch langen Weg vor sich
Ei­ne PwC St­ra­te­gy& Stu­die zeigt: Nur ein Pro­zent der deut­schen Un­ter­neh­men sind di­gi­tal be­son­ders her­aus­ra­gend. Un­ter­neh­men in Asi­en und Ame­ri­ka hän­gen Deut­sch­land bei der Im­p­le­men­tie­rung neu­er Tech­no­lo­gi­en und di­gi­ta­ler Öko­sys­te­me ab. Im­mer­hin soll der Um­satz­an­teil di­gi­ta­ler so­wie di­gi­tal er­wei­ter­ter Pro­duk­te in Deut­sch­land laut der Stu­die von ak­tu­ell 16 Pro­zent auf 22 Pro­zent im Jahr 2023 stei­gen.
Weiterlesen