Press release BoxID: 414927 (AFRISO-EURO-INDEX GmbH)
AFRISO-EURO-INDEX GmbH
Lindenstr. 20
74363 Güglingen,
de
http://www.afriso.de
Contact person
Jörg Bomhardt
+49 (7135) 102-231

Stationary gas analysis - made to your requirements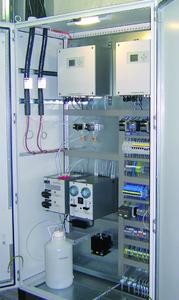 (PresseBox) (
Güglingen

,
)
AFRISO offers tested gas analysers, gas sampling probes and turnkey analysis systems with data recording systems for continuous emission monitoring. These flue gas analysis systems allow for trend messages, monitoring, control and reporting of processes. AFRISO provides complete service to its continuously growing customer base in this market segment from initial consulting on site, complete engineering and plant construction all the way to commissioning and subsequent remote monitoring. In one of our recent projects, we provided a complete solution to one of Europe's largest manufacturer of wood products. The customer had installed a new system for generating heat and power from scrap wood that required continuous monitoring of CO, O2 and dust limit values as per 13th BImSchV - AFRISO implemented the emission measurement system for the wood fired system and a monitoring facility for the existing oil fired heating system. We installed a measurement cabinet with two measuring lines - the measured values and results are now displayed exactly as required by the customer. And there is no need for the wood products manufacturer to worry about annual inspections, calibration or adjustment work or replacement of wearing parts since AFRISO offer maintenance contracts for all stationary systems - a service the vast majority of our industrial customers use. AFRISO's stationary gas analysis and monitoring systems are used in industrial gas filling applications or turbo generator monitoring as well as in power plants and crematoriums, waste incineration plants, biogas systems and waste recovery facilities.
The publisher indicated in each case is solely responsible for the press releases above, the event or job offer displayed, and the image and sound material used (see company info when clicking on image/message title or company info right column). As a rule, the publisher is also the author of the press releases and the attached image, sound and information material.
The use of information published here for personal information and editorial processing is generally free of charge. Please clarify any copyright issues with the stated publisher before further use. In the event of publication, please send a specimen copy to
service@pressebox.de
.