Press release BoxID: 431479 (AFRISO-EURO-INDEX GmbH)
AFRISO-EURO-INDEX GmbH
Lindenstr. 20
74363 Güglingen,
de
/redirect/ext?tu=http%3A%2F%2Fwww.afriso.de&rp=r-W-FweaEmi-vF4iq3J8F2jmR91ojEa2ncTjAOmPDw8
Contact person
Jörg Bomhardt
+49 (7135) 102-231

Remote level monitoring? No problem!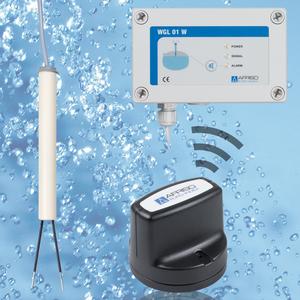 (PresseBox) (
Güglingen

,
)
The new AFRISO radio remote alarm unit WGL 01 W has been designed to signal maximum filling levels, for example, in flood risk areas, waters, control shafts, open gutters or sewage tanks. The alarm unit WGL 01 W consists of a control unit with integrated visual and audible alarms, Acknowledge button and a voltage-free output relay as well as a probe with a connected transmitter (3 V battery). A jumper lets the user configure the interval at which signals are transmitted (433 MHz): every 30 seconds or every 10 minutes. The operating radius from the probe to the control unit is 150 m; however, transmission distances up to 650 m are also possible. The control unit controls and monitors all functions. Once the probe comes into contact with the liquid, the transmitter sends an alarm signal to the control unit which immediately triggers an audible alarm. The alarm tone can be muted with the Acknowledge button. The visual alarm is automatically reset as soon as the problem has been solved or the level is correct again. The system is self-monitoring und also triggers an alarm if the transmitter has no power or if the battery needs to be replaced. The alarm unit is supplied with AC 230 V and suitable for ambient temperatures of -30 to +60 °C. The WGL 01 W alarm unit detects all conductive liquids such as flood water, rainwater, tap water, fresh water, waste water or cooling water. The complete WGL 01 W alarm unit is fast and easy to install and commission.
The publisher indicated in each case is solely responsible for the press releases above, the event or job offer displayed, and the image and sound material used (see company info when clicking on image/message title or company info right column). As a rule, the publisher is also the author of the press releases and the attached image, sound and information material.
The use of information published here for personal information and editorial processing is generally free of charge. Please clarify any copyright issues with the stated publisher before further use. In the event of publication, please send a specimen copy to
service@pressebox.de
.