Press release BoxID: 244656 (AFRISO-EURO-INDEX GmbH)
AFRISO-EURO-INDEX GmbH
Lindenstr. 20
74363 Güglingen,
de
http://www.afriso.de
Contact person
Jörg Bomhardt
+49 (7135) 102-231

Digital Manometer DIM 20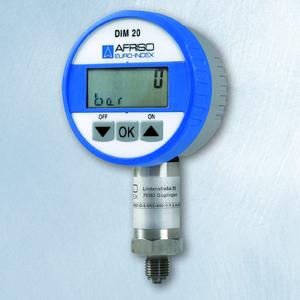 (PresseBox) (
Güglingen

,
)
The Digital Manometer DIM 20 from AFRISO is a pressure measurement instrument with local display. The display housing can be turned. The pressure measurement ranges from -1/0 bar and 0/2.5 bar up to 0/400 bar. The value can be read on a large LCD. Operation is menu-guided via 3 miniature push buttons. DIM 20 is suitable for medium temperatures from -20 °C to 125 °C. Power supply is provided by a 3,6 V Lithium battery. For applications in plant and machinery construction, hydraulics and pneumatics.
Für die oben stehenden Pressemitteilungen, das angezeigte Event bzw. das Stellenangebot sowie für das angezeigte Bild- und Tonmaterial ist allein der jeweils angegebene Herausgeber (siehe Firmeninfo bei Klick auf Bild/Meldungstitel oder Firmeninfo rechte Spalte) verantwortlich. Dieser ist in der Regel auch Urheber der Pressetexte sowie der angehängten Bild-, Ton- und Informationsmaterialien.
Die Nutzung von hier veröffentlichten Informationen zur Eigeninformation und redaktionellen Weiterverarbeitung ist in der Regel kostenfrei. Bitte klären Sie vor einer Weiterverwendung urheberrechtliche Fragen mit dem angegebenen Herausgeber. Bei Veröffentlichung senden Sie bitte ein Belegexemplar an
service@pressebox.de
.