Press release BoxID: 745604 (AFRISO-EURO-INDEX GmbH)
AFRISO-EURO-INDEX GmbH
Lindenstr. 20
74363 Güglingen,
de
http://www.afriso.de
Contact person
Jörg Bomhardt
+49 (7135) 102-231

Differential pressure gauge for process engineering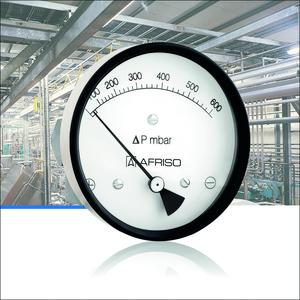 (PresseBox) (
Güglingen

,
)
The new AFRISO magnetic piston pressure gauges MAG 80 I Dif and MAG 100 I Dif are designed for differential pressure measurement at very high static pressure up to PN 400. They can be used with gaseous and liquid, non-adhesive media which are not highly viscous as well as with critical, corrosive media. The pressure gauges are suitable, for example, for monitoring filter elements and pumps in process engineering applications. The magnetic piston pressure gauge MAG 80/100 I Dif (Ø 80 mm or 100 mm) with degree of protection IP 65 features a very compact, robust stainless steel measuring system. The pressure gauges are highly leak-resistant since the pressure chamber and the display are mechanically completely separated. The massive connection block has two lateral female G¼ standard connections; other connection types and process connections can also be provided. The differential pressure gauge can be factory-equipped with an adjustable electrical contact (Reed contact). MAG 80/100 I Dif is suitable for ambient temperatures from 0 °C to 80 °C and for temperatures of the medium of up to 80 °C. The measuring ranges reach from 0/0.25 bar to 0/70 bar; the accuracy is ± 2 % of the full scale value. MAG 80/100 I Dif is available with an optional 3-hole fixing bezel for panel mounting, a mounting plate for wall mounting and a fixing clamp for 2" pipes. MAG 80/100 I Dif can be further customised, for example with an acrylic glass window pane, brass, stainless steel or Monel connection blocks, glycerine filling, maximum pointer, special scales, other seal materials or a filter in the plus connection. On request, the dial comes with a customer logo.
Für die oben stehenden Pressemitteilungen, das angezeigte Event bzw. das Stellenangebot sowie für das angezeigte Bild- und Tonmaterial ist allein der jeweils angegebene Herausgeber (siehe Firmeninfo bei Klick auf Bild/Meldungstitel oder Firmeninfo rechte Spalte) verantwortlich. Dieser ist in der Regel auch Urheber der Pressetexte sowie der angehängten Bild-, Ton- und Informationsmaterialien.
Die Nutzung von hier veröffentlichten Informationen zur Eigeninformation und redaktionellen Weiterverarbeitung ist in der Regel kostenfrei. Bitte klären Sie vor einer Weiterverwendung urheberrechtliche Fragen mit dem angegebenen Herausgeber. Bei Veröffentlichung senden Sie bitte ein Belegexemplar an
service@pressebox.de
.