Press release BoxID: 384546 (AFRISO-EURO-INDEX GmbH)
AFRISO-EURO-INDEX GmbH
Lindenstr. 20
74363 Güglingen,
de
http://www.afriso.de
Contact person
Jörg Bomhardt
+49 (7135) 102-231

Device responds if the gas pressure is low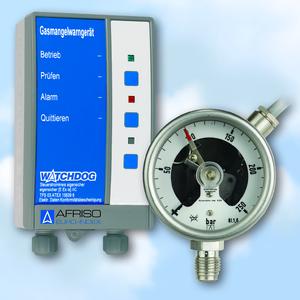 (PresseBox) (
Güglingen

,
)
The AFRISO WATCHDOG low gas pressure alarm can be used together with an optional pressure gauge with contacts to monitor and display the pressure in gas-filled containers so that alarms can be generated if the container runs low on gas. A pressure gauge with contacts adapted to the application generates an alarm at the alarm unit via a switching contact if the pressure falls below a threshold (can be set at the pressure gauge to a value between 5 and 95 % of the range. An alarm is also triggered in the case of a cable break. The alarm unit is supplied with AC 230 V. It features an alarm and an operation lamp, a reset and a test button as well as a relay for supplying the signal to additional alarm devices or to AFRISO event reporting systems. In the case of an alarm, the person in charge can then be notified via e-mail, SMS or telephone. The low gas pressure device may not be operated in hazardous areas (EX zones); however, as a result of the intrinsically safe control circuit, the connected pressure gauge with contacts is approved for EX zones 1 and 2. (EC Type Examination Certificate no. TPS 03 ATEX 15639 6). For reliable monitoring of several gas containers, it is possible to connect the appropriate number of pressure gauges with contacts in series and use a single low gas pressure alarm to monitor all of them. Typical applications of the low gas pressure alarm comprise decompression stations, cylinder batteries or cylinder combinations.
Für die oben stehenden Pressemitteilungen, das angezeigte Event bzw. das Stellenangebot sowie für das angezeigte Bild- und Tonmaterial ist allein der jeweils angegebene Herausgeber (siehe Firmeninfo bei Klick auf Bild/Meldungstitel oder Firmeninfo rechte Spalte) verantwortlich. Dieser ist in der Regel auch Urheber der Pressetexte sowie der angehängten Bild-, Ton- und Informationsmaterialien.
Die Nutzung von hier veröffentlichten Informationen zur Eigeninformation und redaktionellen Weiterverarbeitung ist in der Regel kostenfrei. Bitte klären Sie vor einer Weiterverwendung urheberrechtliche Fragen mit dem angegebenen Herausgeber. Bei Veröffentlichung senden Sie bitte ein Belegexemplar an
service@pressebox.de
.