Press release BoxID: 850802 (AFRISO-EURO-INDEX GmbH)
AFRISO-EURO-INDEX GmbH
Lindenstr. 20
74363 Güglingen,
de
http://www.afriso.de
Contact person
Jörg Bomhardt
+49 (7135) 102-231

Alarm unit for oil separators WGA 02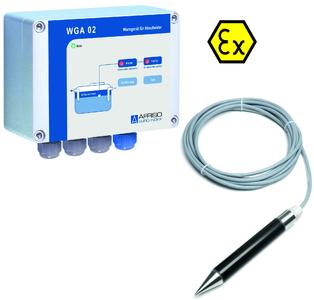 (PresseBox) (
Güglingen

,
)
The AFRISO WGA 02 alarm unit for oil separators, consisting of the control unit WGA 02 and the conductivity probe WGA-SD 03, monitors the thickness of the oil layer in oil separators and triggers visual and audible alarms if a defined level is reached in the oil separator. The unit excels with a high reliability since the connection cable to the probe and the probe itself are continuously monitored for short circuits and line interruptions. The maximum distance between WGA 02 and the probe is 300 m. The electronic system is contained in a robust wall mounting housing with indicators and buttons on the front (1 LED for operation, 2 LEDs for alarm and error, 1 Acknowledge and 1 Test button). Two voltage-free relay outputs are provided for transmission of signals. The system is supplied with AC 230 V and suitable for operating temperatures from 0 °C to +60 °C. Shipped as a complete system (control unit, probe, junction box and mounting material), the alarm unit is fast and easy to commission. The alarm unit is approved for use in hazardous areas. The probe itself may be installed in zones 0, 1 or 2. However, the control unit may only be installed outside of hazardous locations.
Für die oben stehenden Pressemitteilungen, das angezeigte Event bzw. das Stellenangebot sowie für das angezeigte Bild- und Tonmaterial ist allein der jeweils angegebene Herausgeber (siehe Firmeninfo bei Klick auf Bild/Meldungstitel oder Firmeninfo rechte Spalte) verantwortlich. Dieser ist in der Regel auch Urheber der Pressetexte sowie der angehängten Bild-, Ton- und Informationsmaterialien.
Die Nutzung von hier veröffentlichten Informationen zur Eigeninformation und redaktionellen Weiterverarbeitung ist in der Regel kostenfrei. Bitte klären Sie vor einer Weiterverwendung urheberrechtliche Fragen mit dem angegebenen Herausgeber. Bei Veröffentlichung senden Sie bitte ein Belegexemplar an
service@pressebox.de
.