Press release BoxID: 525948 (AFRISO-EURO-INDEX GmbH)
AFRISO-EURO-INDEX GmbH
Lindenstr. 20
74363 Güglingen,
de
http://www.afriso.de
Contact person
Jörg Bomhardt
+49 (7135) 102-231

AFRISO chemical seals MD 52, MD 56 and MD 63 with EHEDG certificate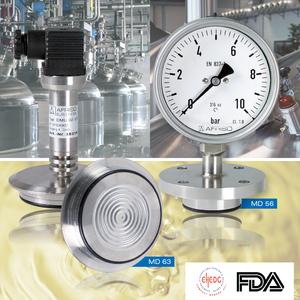 (PresseBox) (
Güglingen

,
)
In order to even better meet the requirements of the pharmaceutical, food and biotechnology industries, AFRISO has obtained an EHEDG certification for its diaphragm seals MD 52 (DIN 11864-1, -2, -3), MD 56 (NEUMO BioControl) and MD 63 (VARINLINE / VARIVENT). The EHEDG (EUROPEAN HYGIENIC ENGINEERING & DESIGN GROUP) examines the hygienic engineering and design of machines, parts and assemblies for open and seal processes for processing and packing food. Important aspects comprise easy cleanability, self-draining and metal stops for process connections with elastomer seals. Precisely designed and calculated distances of the stops ensure that the seals are only used as intended. Gap dimensions for cleanable gaps are kept and the expansion of the seals into the process is reliably prevented. The parts of the chemical seal coming into contact with the process are made of hygienic, high-grade chrome-nickel steel (1.4404/1.4435, AISI 316 L) with a gap-free surface quality of Ra < 0.8 µm. Even the welding seams meet this value. The Research Center Weihenstephan for Brewing and Food Quality of the Technical University Munich TUM carried out the certification. The chemical seals MD 52, MD 56 and MD 63 are certified pieces of equipment as per EHEDG type EL class I and are suitable for cleaning in process (CIP). All AFRISO pressure measuring instruments such as pressure gauges, pressure transducers and pressure switches can be welded to the chemical seals. Various instrument adapters are available for the connection of third-party equipment.
Für die oben stehenden Pressemitteilungen, das angezeigte Event bzw. das Stellenangebot sowie für das angezeigte Bild- und Tonmaterial ist allein der jeweils angegebene Herausgeber (siehe Firmeninfo bei Klick auf Bild/Meldungstitel oder Firmeninfo rechte Spalte) verantwortlich. Dieser ist in der Regel auch Urheber der Pressetexte sowie der angehängten Bild-, Ton- und Informationsmaterialien.
Die Nutzung von hier veröffentlichten Informationen zur Eigeninformation und redaktionellen Weiterverarbeitung ist in der Regel kostenfrei. Bitte klären Sie vor einer Weiterverwendung urheberrechtliche Fragen mit dem angegebenen Herausgeber. Bei Veröffentlichung senden Sie bitte ein Belegexemplar an
service@pressebox.de
.