ARM®-based Freescale Cortex™-A9 i.MX6 QSeven Module, High-performance on Low, 3W Power

Germering / Munich

, (PresseBox) -
Advantech, a global leader in the embedded computing market, continues innovating with its announcement of the new, ARM-based QSeven module ROM-7420, powered by a Freescale ARM® Cortex™-A9 i.MX6 Solo/Dual 1GHz high performance processor that delivers multimedia on a low-power platform. Compliant with Qseven Specification 1.20, the ROM-7420 features compact size (70 x 70 x 8 mm), feather weight (21g), and ultra low power consumption: only 3W. ROM-7420 is especially well suited for portable devices and mobile communications; the fanless design and full HD support are ideal for various low-power applications in HMI/Signage, industrial automation, cloud computing and hand held devices.
High-performance with Low Power Consumption
The ARM® Cortex™-A9 processor, along with 1GB DDR3 memory and 4GB flash onboard, with the 2D and 3D graphics engine built-in, supports up to four independent displays (2 x LVDS, 1 x HDMI, 1 x VGA) and full HD 1080P high quality video output. Power consumption for ROM-7420 is only 3 watts at maximum efficiency, and less than 1 watt in power saving mode; strong hardware encoding/decoding and high-performance integrated graphics processor are designed for multimedia applications with low power consumption.

Flexible I/O in a Small Form Factor

ROM-7420 supports not only Qseven standard I/O interface Ethernet, USB 2.0, USB 2.0 OTG, and PCIe, but also some additional functions beyond the Qseven specification: 3 I2C, 1 I2S, 4 UART (2-wire Tx, Rx, TTL 3.3V ), 8 GPIO w/3.3V level, and 2 CAN Bus 2.0B. The high performance i.MX6 processor with maximum 1 GHz speed breaks the boundary between x86 and RISC platforms; with the full functionality and flexible I/O support of the ROM-7420, it can serve as an economic and efficient replacement for low level/middle class x86 solutions. 4GB on-board eMMC flash provides for built-in OS and reliable storage; onboard 1GB DDR3 enhances the speed of data processing and multitasking. With customized carrier boards, ROM-7420 can fulfill the requirements of different embedded applications. Above all, ROM-7420 is a very cost efficient solution for replacing old, inefficient, bulky systems and innovating your product design.

Streamlined RISC Design-in Support Services

Advantech brought ROM-7420 RISC-based Computer-on-Modules to the market together with RISC Design-in Support Services. We've worked out a valuable development process for modular designs including planning, design, integration, and validation phases; this streamlines the whole design procedure and helps customers rapidly develop their own innovations. In addition to standard OS support such as Embedded Linux v3.0.35 and Android v4.2.2, Advantech provides three-level software services: Evaluative Image, Board Support Package (BSP), and Custom Design Services. This helps customers reduce development time, reduce design costs, and reduce time-to-market.
We are glad to announce that ROM-7420 is available now, along with the ROM-DB7500 evaluation carrier board for easy integration and design reference. Supplied schematics and layout checklist for carrier board development help you develop your own carrier board much more easily than usual. Additionally, Linux BSP, test utilities, design utilities, and reference codes are ready for application development and device integration. Please contact your local salesperson or visit the below website for more details. http://www.advantech.eu/...

ROM-7420 Freescale ARM® Cortex™-A9 i.MX6 QSeven Module Features


Freescale ARM® Cortex™-A9 i.MX6 Solo/Dual 1 GHz high performance processor
Onboard DDR3 memory 512 MB/1 GB
Onboard eMMC NAND Flash 4 GB
Supports OpenGL ES 2.0 and OpenVG 1.1 hardware accelerators, Full HD 1080p video codec
VGA, HDMI, 24-bit LVDS
2 CAN, 4 UART, 3 I2C, 8 GPIO
2 USB, 1 SD/MMC
1 Gigabit Ethernet; 1 PCIe x1 Gen2
Optional thermal solutio
About Embedded Core Service

Advantech Embedded Core Services offers design-in oriented services. These streamlined solutions broadly integrate embedded boards, peripheral modules and software. This dedicated focus on Embedded Design-in services fulfills electronic engineering demands at their design-in phase, and brings benefits that shorten the design and integration cycles, minimizing uncertainty and risk. www.advantech.eu/EmbCore
Website Promotion
ADVANTECH Europe B.V.
Founded in 1983, Advantech is a leader in providing trusted, innovative products, services, and solutions. Advantech offers comprehensive system integration, hardware, software, customer-centric design services, embedded systems, automation products, and global logistics support. We cooperate closely with our partners to help provide complete solutions for a wide array of applications across a diverse range of industries. Our mission is to enable an intelligent planet with Automation and Embedded Computing products and solutions that empower the development of smarter working and living. With Advantech, there is no limit to the applications and innovations our products make possible. (Corporate Website: www.advantech.eu).

Advantech is a proven partner of the Freescale Connect Partner Program. The Freescale Connect Partner Program is an essential source for embedded designs based on Freescale solutions.
Press releases you might also be interested in
Weitere Informationen zum Thema "Hardware":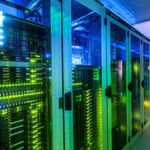 Cloud Provider: Harte Zeiten für große Hardware-Marken
Wer Cloud Pro­vi­der mit Ser­ver­hard­wa­re be­die­nen will, muss an­ders vor­ge­hen als dies üb­li­cher­wei­se die gro­ßen Hard­wa­re-Mar­ken­lie­fe­r­an­ten tun. Das zeigt das Bei­spiel von 1 & 1, wo man ge­ra­de mit Ser­vern von Quan­ta Cloud Tech­no­lo­gy (QCT) ex­pe­ri­men­tiert.
Weiterlesen