powerlineECCO+ and the world of lights at Philips Lighting

Köln

, (PresseBox) -
Innovative ideas and creative concepts for lamps and lights. As a technology company Philips Lighting wants to enrich the lives of its users and create a complete new light performance. So that we as the consumers always get to see the newest illumination concepts, the Philips field crew is permanently in service to redesign the sales area. PANMOBILs powerlineECCO is positioned on the belt of the light professionals and shows them at all times what they need to exchange to guarantee the visitors the maximum light adventure.

In the past: Paper mountains with no ending

When you enter the lighting department at a home improvement store for example, and let your eyes lay on the many lights in the shelves or at the sales walls, then your are already in the middle of the lilluminating world of Philips lighting. The field crew takes care of the implementation of the sales blocks and the integration of new light concepts on the sample walls. Before they start to replace the old exhibition lights with new ones, they have to create an actual recording of the particular market to be able to perform the planning. "It is important to have an overall view of the inventory on site. In the past our field crew had to create those by hand. The items were ticked and the amounts were written next to it on printed catalogues and lists" Martin Meise Philips Lighting project manager remembers.

Today: Quick snapshot of the existing assortment

Today with the help of PANMOBILs barcode scanner all the inventory is been scanned via the1D barcode of the product at record speed. The sales representative has an accurate inventory after a few minutes. The scanner transmits the data of the powerlineECCO+ directly via Bluetooth to an iPad and into the "Stock Data Collector" App. Decisive advantage for an effective inventory: compared to other Bluetooth scanner the PANMOBIL AutoID tools dispose an Apples Crypto Chip in the inside, which establishes a professional and stable Bluetooth data connection. Even while the staff is scanning the products and switch to another App on the iPad like the calendar or email, the barcode data are still continuously transferred, saved and won't get lost. The Stock Data Collector creates automatically a CVS data out of the captured barcodes and the staff send these via email to the chosen recipient. Martin Meise in this matter: "Thanks to this new system the complete inventory is now uncomplicated. Our field crew is happy that with the new scanner the manual effort is significantly reduced. I particularly like that you are able to individualize the buttons of the powerlineECCO+. Therefore all the staff member can individualize the functions as needed. Besides it is a great idea, that the front cover of the devices can be personalized with your own Logo and button descriptions. In my view a very through thought concept."
Website Promotion
advanced PANMOBIL systems GmbH & Co. KG
The PANMOBIL team from Cologne, Germany looks back to over 30 years of development and distribution of AutoID periphery and data capturing software. PANMOBILs EMMware with SCOUTtechnology terminates mistakes while transferring Barcode/RFID data to the aims ERP system. The embedded Middleware transfers the data completely automatic without any user intervention. Expenses for hotline, installation and maintenance belong to the past.PANMOBILs mobile data capturing devices are iOS and Android certificated and control the barcode area (1D+2D) via laser or its own camera reading system and also RFID(LF,HF and UHF) using its own decoder technology.
Press releases you might also be interested in
Weitere Informationen zum Thema "Intralogistik":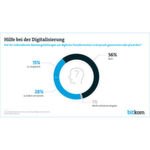 Unternehmen suchen Unterstützung bei der Digitalisierung
Ei­ne Um­fra­ge des Di­gi­tal­ver­bands Bit­kom er­gab, dass fast je­des zwei­te Un­ter­neh­men (43 Pro­zent) ex­ter­ne Be­ra­tung in An­spruch nimmt, um die Di­gi­ta­li­sie­rung vor­an­zu­t­rei­ben.
Weiterlesen