Key Account Manager (m/w/d) mit dem Schwerpunkt Vertrieb in der Schweiz

(Full-time | Zürich)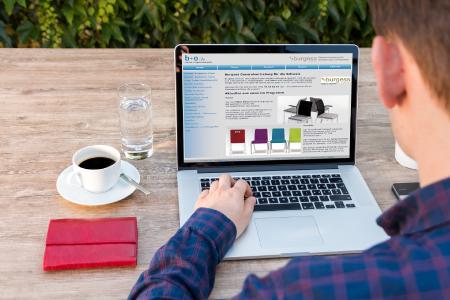 Die Firma
b+o bankett- & objektmöbel gmbh
repräsentiert in der Schweiz exklusiv den weltweit größten Bankett- Seminar- und Objektmöbel Hersteller burgess furniture. 
Weitere hochwertige Klapptisch- und Stehtischsysteme sowie mobile Bühnenelemente und mobile Tanzflächen der Muttergesellschaft
Mott Mobile Systeme
runden das vielfältige Sortiment ab.
Wir suchen für eine altersbedingte Nachfolgeregelung Sie als Menschen, der die Herausforderung des Alltags als Chance sieht und diese annimmt, als
             Key Account Manager (m/w/d) mit dem Schwerpunkt Vertrieb in der Schweiz
 Zielsetzung dieser Position:
Als Key Account Manager (m/w/d) sind Sie im Unternehmen eine Schlüsselfigur und sind für die Vermarktung sowie das Marketing der Produkte zuständig. Ihnen unterliegt die Betreuung und der Ausbau des Vertriebs für den Schwerpunktbereich Hotellerie und Gastronomie sowie die Erschließung neuer weiterer Branchen. Sie sind die Schnittstelle zwischen dem Kunden und der Muttergesellschaft in Deutschland und für beide Seiten erster Ansprechpartner. Unsere Niederlassung befindet sich in der Nähe von Zürich; für die Stelle ist ein Wohnsitz im Einzugsgebiet von Zürich empfehlenswert, aber keine zwingende Voraussetzung.
Ihre neuen Herausforderungen:
Betreuung von Bestandskunden sowie Neuakquise und Ausbau der Kundengruppen in der Schweiz
Führen von Verkaufsgesprächen und Produktvorstellungen bei den Zielgruppen
Stärkung der Unternehmens- und Markenpräsenz in der Schweiz
Technische Projektierungen und Kalkulationen mit Angebotserstellung
Analyse und Beobachtung von Marktanforderungen und Wettbewerber (in der Schweiz)
Hohes Maß an Eigenverantwortung; dadurch tragen Sie in dieser spannenden und vielseitigen Position viel zum unternehmerischen Erfolg bei
 Das wünscht sich Ihr Team:
Eine kaufmännische oder technische Ausbildung und betriebswirtschaftliche Kenntnisse
Ausgewiesene Erfahrung im Vertrieb und in der Akquise von Neukunden
Verhandlungssichere Deutschkenntnisse; wünschenswerterweise gute Englisch- und/oder Französischkenntnisse
Interesse an Herausforderungen, ein hohes Maß an Kreativität, Eigeninitiative und Engagement
Hohe Kommunikationsfähigkeit und Freude am Umgang mit Geschäftspartnern
Empathische, gewinnende und bodenständige Persönlichkeit mit hoher Selbstmotivation
Flexibilität und Reisebereitschaft innerhalb Ihres Gebietes
Zielorientierte, selbstständige Arbeitsweise, unternehmerisches Denken und Verhandlungsstärke
Führerschein (Klasse B)
Wir bieten Ihnen in einem zukunftsorientieren Unternehmen:
Gestaltungsspielraum in einer vielschichtigen und herausfordernden Branche
Abwechslungsreiche und eigenverantwortliche Aufgabe in einem interessanten und erlebnisreichen Umfeld
Einen Firmenwagen (auch zur Privatnutzung)
Hochwertige Arbeitsmittel (Laptop, Handy etc.) stehen zur Verfügung
Leistungsorientiertes, junges und motiviertes Arbeitsumfeld
Offene und teamorientierte Unternehmenskultur
Expandierendes Unternehmen mit starker Muttergesellschaft
Attraktives Fixgehalt & lukrative Erfolgsbeteiligung
Ein positives und entwicklungsorientiertes Arbeitsumfeld verbunden mit einem attraktiven Angebot und entsprechenden Sozialleistungen
Langfristige, sichere Arbeitsplätze in unbefristetem Arbeitsverhältnis
Sie haben mit der
Mott Mobile Systeme GmbH & Co. KG
eine starke Muttergesellschaft mit dem gesamtem Team im Rücken. Mott gilt als einer der führenden Hersteller von mobilen Podesten & Eventmobiliar sowie vom innovativen Keyboard- und Studiosystem Black Panther System. Mott  ist seit über 100 Jahre auf dem Markt und verfügt über flexible Fertigungsmöglichkeiten wie kaum ein anderes Unternehmen seiner Art.
Bei b+o kann jeder etwas bewegen; aber um uns herum bewegt sich auch viel. Wer sich – wie wir bei b+o – anspruchsvolle Visionen und Ziele setzt, benötigt auch Menschen, mit denen man sie erreichen kann.
The publisher indicated in each case is solely responsible for the press releases above, the event or job offer displayed, and the image and sound material used (see company info when clicking on image/message title or company info right column). As a rule, the publisher is also the author of the press releases and the attached image, sound and information material.
The use of information published here for personal information and editorial processing is generally free of charge. Please clarify any copyright issues with the stated publisher before further use. In the event of publication, please send a specimen copy to
service@pressebox.de
.