Anlagenbediener Rohrlaseranlagen und Profilbearbeitungszentrum (m/w/d)

(Full-time | Tauberbischofsheim)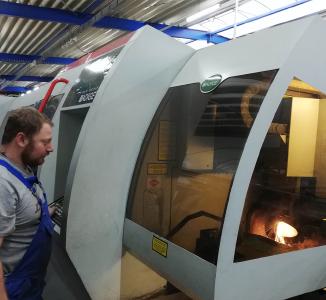 Arbeiten in einem modernen Unternehmen, in dem der Mitarbeiter ein Teil des Unternehmens ist und seine Ideen sowie Verbesserungen gerne einbringen darf.
"Wir sorgen für Ihren besonderen Auftritt
      … und geben Ihren Ideen eine Plattform."
Wir – die Mott Mobile Systeme GmbH & Co. KG – sind einer der führenden Hersteller von Podest- und Klapptischsystemen. Seit Jahrzehnten steht Mott in der Branche für Topqualität. Ob mobiles Podest, Tribüne (öffentlicher Bereich), Veranstaltungsbühne, Outdoorbühne, Klapptisch und Stehtisch, ob mobiler Tanzboden und Eventboden: Unsere Produkte sind einfach in der Bedienung, robust, langlebig und somit echte Stars.
In unserer modern ausgestatteten Produktion setzen wir modernste Technologien und Maschinen ein (Pulverbeschichtung, Industrieschreinerei, Profilbearbeitung & Rohrlasertechnik).
Für unsere Rohrlaseranlagen sowie Profilbearbeitungszentrum suchen wir Sie als
Anlagenbediener Rohrlaseranlagen und Profilbearbeitungszentrum (m/w/d)
Ihre neuen Herausforderungen:
Arbeiten an modernen Maschinen der Metallbearbeitung

Profilbearbeitungszentrum "elumatec SBZ 630"
Rohrlaseranlagen "ADIGE LT Fiber", sowie "ADIGE LT 722"

Programmierung der Maschinen nach Vorgabe und bei Bedarf eigenständige Ausführung von Korrekturen
Prüfen der gefertigten Teile auf die entsprechende Qualität
Überwachung und Sicherstellung der Einsatzfähigkeit der Maschinen
Durchführung von Reinigungs- und Wartungsarbeiten an den Maschinen
Durchführung vor- und nachgelagerter Arbeiten, sowie Bedienung und Anwendung
der dafür benötigten Maschinen und Geräte
Herstellung von Neuteilen/ Prototypen
Qualität der eigenen Arbeit überprüfen und ggf. Korrekturen vornehmen
Das wünscht sich Ihr Team:
Eine abgeschlossene Ausbildung des metallverarbeitenden Gewerbes (Stahl / Alu)
mit Berufserfahrung
Kenntnisse in der Programmierung von CNC-Maschinen sowie Laseranlagen
Sehr gute Kenntnisse im Lesen und Verstehen von technischen Zeichnungen
Erfahrung in der Automatisierungstechnik und Anlagenprogrammierung
Technisches Verständnis für Anlagen, Maschinen und Arbeitsplatzorganisation
Ein hohes Maß an Präzision und Sorgfalt
Selbstständige, verantwortungsvolle und strukturierte Arbeitsweise
Sie möchten Ihre Ideen mit in die Abläufe einbringen
Qualitätsbewusstsein
Hohe Motivation, Teamfähigkeit, Flexibilität sowie Eigeninitiative in einem dynamischen Team
Wir bieten Ihnen in einem zukunftsorientierten Unternehmen:
Eine abwechslungsreiche, interessante Tätigkeit mit entsprechender Einarbeitung
Angenehme Arbeitsatmosphäre mit modernen Maschinen
Eine stark teamorientierte und moderne Unternehmenskultur
Flache Hierarchien kurze Entscheidungswege
Sicheren Arbeitsplatz und Weiterbildungsmöglichkeiten
Aktive Mitgestaltungsmöglichkeiten in einem stark wachstumsorientieren Unternehmen
Ein positives und entwicklungsorientiertes Arbeitsumfeld verbunden mit einem attraktiven Angebot und entsprechenden Sozialleistungen
Langfristige, sichere Arbeitsplätze in unbefristetem Arbeitsverhältnis
Gemeinsame Besichtigung des Arbeitsplatzes vor Beginn der Tätigkeit und ggf. Probearbeiten
Weitere Informationen zu unserer Schlosserei unter: 
https://mott.de/industrieschlosserei/
Bei Mott kann jeder etwas bewegen; aber um uns herum bewegt sich auch viel. Wer sich – wie wir bei Mott – anspruchsvolle Visionen und Ziele setzt, benötigt auch Menschen, mit denen man sie erreichen kann.
Sie wollen auch Teil von Mott werden und mit uns gemeinsam die Zukunft gestalten?
The publisher indicated in each case is solely responsible for the press releases above, the event or job offer displayed, and the image and sound material used (see company info when clicking on image/message title or company info right column). As a rule, the publisher is also the author of the press releases and the attached image, sound and information material.
The use of information published here for personal information and editorial processing is generally free of charge. Please clarify any copyright issues with the stated publisher before further use. In the event of publication, please send a specimen copy to
service@pressebox.de
.