AZUBI (M/W/D) ZUM MECHATRONIKER

(Full-time | Schlierbach)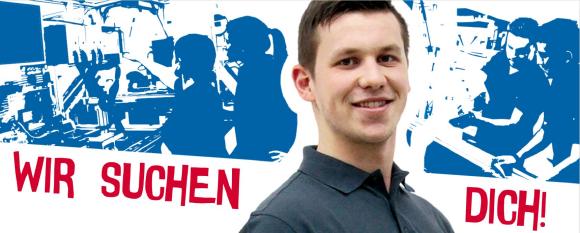 Für unseren Standort in Schlierbach suchen wir für den nächsten Ausbildungsstart zum
01. September 2021
AZUBI (M/W/D) ZUM MECHATRONIKER
Als Mechatroniker/in... 

Bist du für das montieren von mechanischen, elektrischen und elektronischen Komponenten verantwortlich
Baust du die einzelnen Komponenten zu komplexen Systemen zusammen und nimmst diese in Betrieb
Sorgst du für eine korrekte Installation und Anpassung der Steuerungssoftware für die Anlagen
Ermittelst du Störungsursachen der mechatronischen Systeme und behebst diese eigenständig
Weist du Kunden und Kollegen bezüglich der Handhabung und Bedienung mechatronischer Systeme ein
Das solltest du mitbringen:
sehr gute Mittlere Reife oder einen höherwertigen Abschluss, wie ein (Fach-)Abitur
Handwerkliches Geschick, technisches Verständnis und logisches Denkvermögen
Interesse an komplexen technischen Vorgängen und Abläufen
Spaß an Mathematik und naturwissenschaftlichen Fächern
Freude am Umgang mit dem PC
Zuverlässigkeit und Leistungsbereitschaft
Praktikumserfahrung von Vorteil
Eberhard bietet dir:
Abwechslung durch Einblicke in verschiedene Bereiche des Unternehmens
Ausbildung wird nahe an der Praxis und am Produkt durchgeführt
Faire Vergütung während der gesamten Ausbildungszeit
Sehr gut ausgestattete Ausbildungswerkstatt
Persönliche Förderung und Betreuung durch unser Ausbildungsteam
Wir freuen uns auf Deine Online-Bewerbung über unser Bewerberportal.
The publisher indicated in each case is solely responsible for the press releases above, the event or job offer displayed, and the image and sound material used (see company info when clicking on image/message title or company info right column). As a rule, the publisher is also the author of the press releases and the attached image, sound and information material.
The use of information published here for personal information and editorial processing is generally free of charge. Please clarify any copyright issues with the stated publisher before further use. In the event of publication, please send a specimen copy to
service@pressebox.de
.