MDM/PIM Consultant (m/w/d)

(Full-time | Sankt Pölten)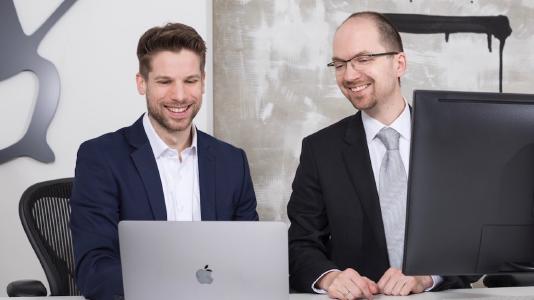 Am Standort St. Pölten sucht foryouandyourcustomers einen erfahrenen MDM/PIM Consultant (m/w/d)
An unserem Standort bei for​you​and​your​cus​tom​ers in 
St. Pölten
 bieten wir einem erfahrenen MDM/PIM Consultant (m/w/d) an, als Teil unseres Teams Kundenprojekte zu koordinieren und in der Umsetzung zu unterstützen. 
Seit 2010 begleitet foryouandyourcustomers Unternehmen im digitalen Wandel. Dabei analysieren, beraten, konzipieren und entwickeln wir mit einer integralen Sichtweise. Wir begleiten unsere Kunden in Analyse- und Strategieprojekten, geben Orientierung zu Customer Centricity und Organisationsentwicklung und setzen wegweisende und durchdachte Multichannel-Lösungen wie Onlineshops, digitale Portale oder PIM- und Master Data Management-Systeme um.
Unsere Anforderungen
Im agilen Projektteam arbeitest Du entlang des gesamten Entwicklungsprozesses von der Analyse von Anforderungen bis zur Abnahme durch den Kunden mit.
Gute Programmierkenntnisse in JavaScript und einer objektorientierten Sprache, idealerweise Java.
Fundierte Kenntnisse mit Relationellen-Datenbanken (SQL, MySQL etc.).
Sicherer Umgang mit HTML, CSS, JSON sowie XML.
Idealerweise Erfahrung auf der Kundenseite.
Idealerweise Erfahrungen im Umfeld MDM / ERP / CRM / PDM / PLM.
Affinität für moderne Technologien, idealerweise Erfahrung mit Stibo STEP.
Gute analytische Fähigkeiten.
Affinität für moderne Technologien.
Du hast Freude an Sprache und Kommunikation in Deutsch und Englisch (verhandlungssicher).
Du fühlst Dich in der Umgebung von Kunden wohl und hast eine entsprechende Reisebereitschaft.
Abgeschlossenes Universitäts- oder FH-Studium mit Schwerpunkt (Wirtschafts-) Informatik.
Unsere Arbeitsweise
Wir sind eine Organisation, die aus selbstverantwortlichen Mitarbeitenden besteht:
Menschen und Interaktionen sind für uns grundlegender als Prozesse und Werkzeuge.
Reagieren auf Veränderung steht über dem Befolgen eines Plans.
Freie Arbeitszeiteinteilung unter Berücksichtigung von Projekterfordernissen.
Viele Mitgestaltungsmöglichkeiten, Weiterbildungen und Teamevents.
Funktionierende Ergebnisse stehen über einem ausgeklügelten Konzept.
Eine gute, langfristige Zusammenarbeit mit Kunden steht über einer kurzfristigen Optimierung.
Unser Angebot
An unserem Standort mitten in der Kremser Gasse arbeiten 5 beziehungsfähige Menschen, die Dich gerne kennenlernen möchten. Unser Standort in St.Pölten ist eine von 14 Zellen von foryouandyourcustomers und befindet sich zentral am Tor zur Fußgängerzone und direkt gegenüber des Bahnhofs.
Ein Grundgehalt auf Vollzeitbasis (38,5 Wochenstunden) ab € 45.000.- brutto pro Jahr, das tatsächliche Gehalt ist erfahrungsabhängig und kann höher liegen.
Einsatz von modernen Tools.
Soziale Innovationen wie Lohntransparenz und jeden Montag eine Einladung zum Mittagessen für alle Mitarbeitenden.
Firmenhandy auch zur privaten Nutzung.
Individuelle Entwicklungsmöglichkeiten.
Ein sehr schöner Arbeitsplatz in der Nähe des Bahnhofs, mit zeitgenössischer Kunst und bequemen Sesseln, mit tollen Arbeitskollegen und leistungsfähigen Arbeitsgeräten.
Mehr über uns erfährst Du unter 
https://www.foryouandyourcustomers.com
 oder auch 
https://www.kununu.com/at/foryouandyourcustomers-wien1
. 
Bewerbe Dich bei uns 
Auf Deine Bewerbung freut sich 
Manuel Hanel
 unter 
mah@foryouandyourcustomers.com
. 
Andreas Damberger
, CEO foryouandyourcustomers St. Pölten und 
Wien
, und das Team freuen sich, Dich persönlich kennenzulernen.
The publisher indicated in each case is solely responsible for the press releases above, the event or job offer displayed, and the image and sound material used (see company info when clicking on image/message title or company info right column). As a rule, the publisher is also the author of the press releases and the attached image, sound and information material.
The use of information published here for personal information and editorial processing is generally free of charge. Please clarify any copyright issues with the stated publisher before further use. In the event of publication, please send a specimen copy to
service@pressebox.de
.