Fachplaner/Projektingenieur Elektrotechnik

(Full-time | Sankt Augustin)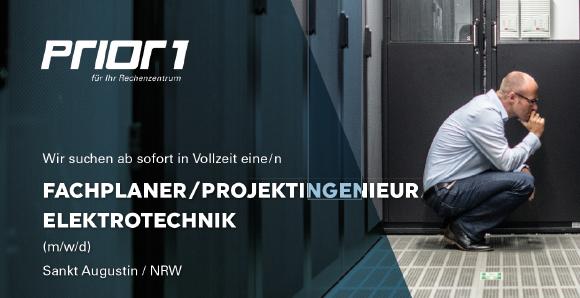 Für unser Team in
Sankt Augustin/NRW
suchen wir einen
Fachplaner/Projektingenieur Elektrotechnik
(m/w/d), mit Berufserfahrung oder Absolvent.
Unser Angebot
ein verantwortungsvolles und abwechslungsreiches Aufgabengebiet
ein moderner Arbeitsplatz in einem familiären Arbeitsumfeld, geprägt von Strukturen einer selbstführenden Organisation und den Prinzipien der Gemeinwohl-Ökonomie
Möglichkeiten und Unterstützung der fachlichen und persönlichen
Weiterentwicklung bei fairer Bezahlung
ein verantwortungsvolles und abwechslungsreiches Aufgabengebiet
flexible Arbeitszeitgestaltung und ein unbefristetes Arbeitsverhältnis
Weihnachtsgeld, sowie Zuschüsse zur betrieblichen Altersvorsorge
Übernahme von Jobticket / Jobfahrrad
Unsere Anforderungen
Abgeschlossenes Studium der Elektrotechnik oder vergleichbare Fachrichtung
Schwerpunkt auf Energieversorgung- und Verteilung (hauptsächlich 0,4kV)
Kenntnisse gängiger CAD/CAE und AVA-Lösungen und ggf. softwarebasierten Berechnung der elektrischen Energieverteilung (z.B. SIMARIS)
Sicherer Umgang mit MS Word und MS Excel
Gute Englischkenntnisse in Wort und Schrift

optional (Berufserfahrung):
- Berufserfahrung in einem Ingenieurbüro oder in ähnlicher Position
- selbstständige Planung, Projektierung, Überwachung und Projektleitung
- Sicher im Umgang mit Baurecht, HOAI und VOB
- Kenntnisse im Brandschutz der betreffenden Anlagen
- Kenntnisse in Sicherheitstechnik von Vorteil (EMA, ZKA, BMA)
- Befähigung für die Planung von Brandmeldeanlagen
- Kenntnisse in GLT- und MSR-Technik von Vorteil


Gute schriftliche Ausdrucksweise bei der Erstellung umfangreicher Dokumente
Sicheres und kompetentes Auftreten gegenüber Kunden und Geschäftspartnern
Ausgeprägtes analytisches Denken und korrekte, zuverlässige Arbeitsweise
Hohe Motivation zur kontinuierlichen Weiterbildung
Kommunikationsstärke und Teamgeist
Bereitschaft zu Dienstreisen
Ihre Aufgaben
Selbstständige Projektabwicklung von Beratungs- und Planungsprojekten aus dem Bereich Rechenzentrum
Anforderungsermittlung, Konzeptentwicklung und Beratung zum Technologieeinsatz
Planung und Projektierung von Stark- und Schwachstromanlagen in Rechenzentren
Erstellung von Leistungsverzeichnissen sowie Kostenkalkulation
Vorbereitung und Mitwirkung bei der Vergabe
Bauleitung und -überwachung vor Ort sowie Teilnahme an Besprechungen
Projektleitung, Überwachung der ausführenden Unternehmen und Kostenkontrolle
Schnittstelle zwischen Bauherrn, Nutzern, Architekten und weiteren Projektbeteiligten
Unterstützung des Vertriebs und Mitarbeit bei der Angebotserstellung
Unterstützung des Teams im Bereich Elektro- und Sicherheitstechnik
Verhandlungen mit Kunden und Lieferanten
Betreuung projektbeteiligter Zeichner
Die Prior1 ist spezialisiert auf die Planung, den Bau und die Ausstattung von Rechenzentren. Unseren Kolleg*innen bieten wir ein wertschätzendes, selbstbestimmtes Arbeiten in einem gemeinwohl-zertifi zierten Unternehmen. Bitte senden Sie Ihre Bewerbung per E-Mail an
bewerbung@prior1.com
. Für Rückfragen stehen Ihnen Tobias von der Heydt (Tel. +49 2241 - 14727 - 223) und Anja Zschäck (Tel. 02241 - 14727 - 11) zur Verfügung.
The publisher indicated in each case is solely responsible for the press releases above, the event or job offer displayed, and the image and sound material used (see company info when clicking on image/message title or company info right column). As a rule, the publisher is also the author of the press releases and the attached image, sound and information material.
The use of information published here for personal information and editorial processing is generally free of charge. Please clarify any copyright issues with the stated publisher before further use. In the event of publication, please send a specimen copy to
service@pressebox.de
.