Teamleiter Returns I Retouren- & Reklamationsbearbeitung (w/m/d)

(Full-time | Raunheim)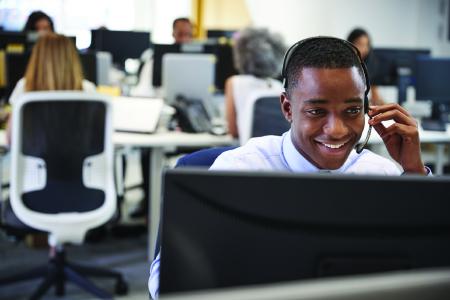 Blatchford ist ein weltweit führender Anbieter von Rehabilitationsleistungen mit 130-jähriger Innovationskraft und Expertise preisgekrönter Prothesentechnologie. Im Mittelpunkt unseres Handelns und unserer Produkte stehen die Werte Leistung, Innovation, Integrität und Zusammenarbeit. Unsere Designphilosophie ist die Nachbildung der natürlichen Bewegung des Menschen für mehr Lebensqualität. Ein Team von Spezialisten engagiert sich für die Mobilitätsbedürfnisse der Kunden weltweit.
Für unsere neue Europazentrale im modernen Gewerbegebiet "Am Prime Parc"
in Raunheim suchen wir ab sofort Teamverstärkung in Vollzeit:
Teamleiter Returns I Retouren- & Reklamationsbearbeitung (w/m/d)
Ihr Aufgabenfeld:
Gewährleistung einer einwandfreien Bearbeitung der Rücksendungen (Reklamationen, Retouren, Reparaturen, Garantieservices, Wartungen)
Steuern und Organisieren des Teams zur Sicherstellung einer effizienten und zuverlässigen internationalen Serviceabteilung
Überwachung, Auswertung und Einhaltung der Servicequalität zur kontinuierlichen Verbesserung der Servicequalität und Optimierung der Abläufe
Überwachung der Team-Performance und enge Schnittstelle zum UK-ACS Headquarter
Ansprechpartner für die Schnittstellen und die Geschäftsleitung rund um das Return-Management
Teilnahme am operativen Tagesgeschäft
Ihr Profil:
Abgeschlossene kaufmännische oder vergleichbare Ausbildung mit Erfahrung im Bereich Retouren- und Reklamationsbearbeitung
Selbstständige, analytische und serviceorientierte Arbeitsweise, handwerkliches Geschick und Freude am Umgang mit Technik mit Teamleitererfahrung
Belastbarkeit und strukturierte Arbeitsweise, gepaart mit Teamfähigkeit und Gespür für die Servicebedürfnisse unsere Kunden
Gute Englischkenntnisse in Wort und Schrift, weitere Fremdsprachen (z.B. Französisch) sind von Vorteil
Sicherer Umgang mit MS Office-Anwendungen
Werden Sie ein Teil des Blatchford-Teams!
Sie haben die Möglichkeit, die Prozesse in unserem neuen Office durch Ihre Ideen und Vorschläge aktiv mitzugestalten. Es erwartet Sie eine spannende Tätigkeit in einer internationalen Atmosphäre in einem innovativen Arbeitsumfeld mit Hightech-Medizinprodukten. Neben einer modernen Office-Umgebung bieten wir Ihnen eine attraktive Vergütungsstruktur, berufliche und persönliche Weiterbildungsmaßnahmen und Zusatzleistungen. Wer eine spannende Herausforderung bei einem neuen Arbeitgeber im Berufsleben sucht und den Erfolg in einem preisgekrönten Unternehmen gemeinsam im Team mit vorantreiben möchte ist bei uns genau richtig.
Sind Sie an abwechslungsreichen Aufgaben interessiert?
Werden Sie ein Teil des Blatchford-Teams. Wir freuen uns auf Sie!
Senden Sie jetzt Ihre Bewerbung an:
Herrn Adam Baier, E-Mail: 
adam.baier@blatchford.de
Herrn Marcus T. Walda, E-Mail: 
marcus.walda@blatchford.de
Besuchen Sie uns für weitere Details gerne auf: www.blatchford.de
The publisher indicated in each case is solely responsible for the press releases above, the event or job offer displayed, and the image and sound material used (see company info when clicking on image/message title or company info right column). As a rule, the publisher is also the author of the press releases and the attached image, sound and information material.
The use of information published here for personal information and editorial processing is generally free of charge. Please clarify any copyright issues with the stated publisher before further use. In the event of publication, please send a specimen copy to
service@pressebox.de
.