(Senior) Vertriebsmitarbeiter (m/w/d) im Außendienst Region Ostdeutschland

(Full-time | Potsdam)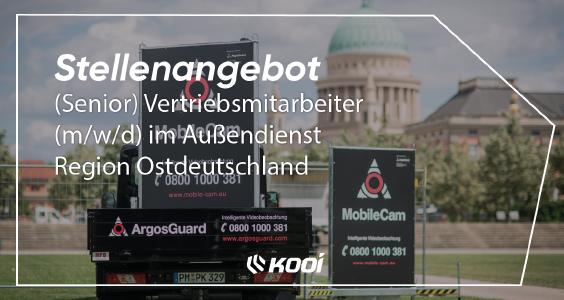 Kooi und ArgosGuard sind Marktführer für mobile Videoüberwachung und Brandfrüherkennung in Europa. Unsere Kunden aus der 
Bauindustrie, erneuerbaren Energien, Logistik- und Abfallwirtschaft sowie der Sicherheitsindustrie
 vertrauen uns seit über 10 Jahren in 22 Ländern. Wir sind nach dem europäischen Standard EN 50518 und ISO 27001 als Alarmempfangsstelle zertifiziert. 
Zum Ausbau unserer Marktführerschaft suchen wir für unseren Vertriebsstandort in 
Potsdam
 motivierte 
Vertriebsmitarbeiter (m/w/d)
 im 
Außendienst
, die in der Region 
Ostdeutschland
 (Berlin, Potsdam) tätig sind.
Deine Aufgaben - vielseitig und anspruchsvoll:
Als Vertriebsmitarbeiter (m/w/d) gehörst Du zu einem internationalen Vertriebsteam, das für die Vermietung unseres eigenen Videoüberwachungssystems Unit For Observation (UFO) verantwortlich ist. UFO ist ein temporäres und innovatives mobiles Kameraüberwachungssystem, mit dem Überwachung und Einbruchprävention einfacher und zuverlässiger denn je sind. Mit Vertriebspower und Beratungskompetenz bringst Du unser UFO an "den Mann":
Als Vertriebsprofi bist Du verantwortlich für das B2B-Neukundengeschäft von Kooi und baust aktiv ein nachhaltiges B2B-Kundennetzwerk auf, wobei Du die Entwicklung bestehender Kundenbeziehungen nie aus den Augen verlierst.
Du berätst Unternehmen hinsichtlich unserer modernen Sicherheitslösungen.
Du planst eigenständig Vertriebsaktivitäten und setzt diese in Abstimmung mit Deinem Regional Sales Manager um.
Du übernimmst die Verantwortung für Deine Zielerfüllung und arbeitest selbständig in Deinem Team.
Du übernimmst die Ausarbeitung, Kalkulation und Präsentation von Angeboten und kümmerst Dich abschließend um die Auftragsannahme inkl. der sorgfältigen Pflege unserer Datenbanken.
Das richtige Profil - motiviert und qualifiziert:
Dein absoluter Erfolgswille sowie Deine Affinität zu Technik und IT machen Dich zur perfekten Sales-Persönlichkeit mit Macherqualität. Dabei kämpfst Du Dich bei Wind und Wetter bis zu den Entscheidungsträgern vor und lässt Dich von einem "Nein" nicht abschütteln.
Du besitzt mehrjährige Vertriebserfahrung mit nachweisbaren Erfolgen in der Bauindustrie, erneuerbaren Energien, Logistik- und Abfallwirtschaft oder der Sicherheitsindustrie. Dein großes Netzwerk weißt Du Dir zu Nutze zu machen.
Du beschreibst Dich selbst als eine unternehmerisch denkende Persönlichkeit und brennst für die Arbeit mit Kunden. Dabei fehlt es Dir nicht an Leidenschaft, Herzblut & Freude.
Du arbeitest selbstständig, zeigst ausgewiesenen Teamgeist und kannst mit Deiner Motivation und Deinem Engagement auch andere mitreißen.
Du bist belastbar und verantwortungsbewusst, kannst Prioritäten setzen, verfügst über eine schnelle Denke und bist ein Organisations-, Koordinations- und Kommunikationstalent.
Der sichere Umgang mit den MS-Office-Programmen ist für Dich selbstverständlich und idealerweise bringst Du auch Kenntnisse mit einer CRM-Software mit.
Für Deine Tätigkeit sind Reisebereitschaft und der Führerschein Klasse B unabdinglich - Klasse BE ist von Vorteil.
Neben Deutschkenntnissen auf muttersprachlichem Niveau (C1) kannst Du dich auch auf Englisch gut verständigen.


Das richtige Angebot - attraktiv und fair:
Eine anspruchsvolle und abwechslungsreiche Position mit Zukunftsperspektive. Durch unser gesundes Wachstum und unseren Ehrgeiz gibt es immer Raum, sich zu entwickeln.
Flexible Gestaltung Deiner Arbeitszeit und das technische Equipment für die flexible Gestaltung Deines Arbeitsortes.
Zielgerichtete Einarbeitung und Vorbereitung auf Deine Tätigkeit bei Kooi sowie fortwährende Aus- und Fortbildung, unter anderem über unsere Online-Schulungsplattform.
Ein Platz in unserer Familie.
Wir glauben an Dich! 
Interessiert?
Nutze die Chance und werde Teil eines kollegialen Teams mit direkten Entscheidungswegen. Freu Dich auf herausfordernde Aufgaben, ein hochmotiviertes Team und ein abwechslungsreiches Arbeitsumfeld in einem stetig wachsenden Unternehmen. Ein Arbeitsplatz in Festanstellung ist Dir sicher. Aufrichtigkeit, Kunden- und Partnerorientierung, die Begeisterung für Technologien und Innovationen sowie der respektvolle Umgang miteinander stehen bei Kooi ganz oben.
Wenn Du Interesse an dieser Aufgabe hast, dann freuen wir uns auf Deine vollständigen Bewerbungsunterlagen mit Angabe Deines möglichen 
Eintrittstermins
 und Deiner 
Gehaltsvorstellung
.
Bitte sende Deine Bewerbung per Mail an unsere HR Assistentin Kira Slembeck: 
jobs.de@247kooi.com
Wir freuen uns auf Dich!
The publisher indicated in each case is solely responsible for the press releases above, the event or job offer displayed, and the image and sound material used (see company info when clicking on image/message title or company info right column). As a rule, the publisher is also the author of the press releases and the attached image, sound and information material.
The use of information published here for personal information and editorial processing is generally free of charge. Please clarify any copyright issues with the stated publisher before further use. In the event of publication, please send a specimen copy to
service@pressebox.de
.