Duales Studium BWL-Handel-Studiengang Warenwirtschaft und Logistik

(Part-time | Neckarsulm)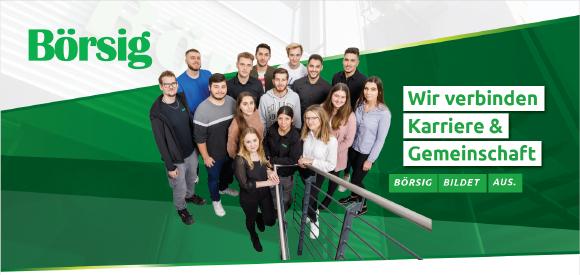 Für unsere Ausbildung am Standort Neckarsulm suchen wir zum 1. Oktober 2022:
Duales Studium BWL-Handel-Studiengang Warenwirtschaft und Logistik
Ihr Bachelor-Studium absolvieren Sie im 3-Monats-Rhythmus an der DHBW Mosbach sowie im Börsig Hauptsitz in Neckarsulm. Teilnahme an einem Auslandssemester wird, bei Erfüllung der notwendigen Voraussetzungen, vom Unternehmen befürwortet und ggf. gefördert.
Theoriestudium
Den Schwerpunkt des Studiums bilden die allgemeine Betriebswirtschaftslehre, Volkswirtschaftslehre, Recht, Unternehmensrechnung und Informationsmanagement. Bereits ab dem 3. Semester werden vertiefende Inhalte mit dem Schwerpunkt Logistik & Warenwirtschaft behandelt und vertieft.
Praxisstudium
Während der Praxisphasen übernehmen die Studierenden qualifizierte Aufgaben in der Logistik und durchlaufen dabei alle wichtigen Abteilungen unseres Unternehmens. Im Verlauf des Studiums streben wir zunehmend zielgerichtete Anwendung und Anpassung theoretischer Erkenntnisse an Problemstellungen der Praxis, auch durch aufeinander aufbauende Projektarbeiten und die Bachelor Thesis an.
Ihr Profil
Sie haben eine sehr gute Hochschulreife erlangt.
Gutes Zahlen- und Matheverständnis sowie ausgeprägte analytische Fähigkeiten.
Sie verfügen über mindestens gute Englischkenntnisse.
Sie kommunizieren ausdrucksstark, effektiv und konstruktiv.
Sie treten sicher und selbstbewusst auf.
Unser Angebot
Festes Bruttogehalt zuzüglich 13. Gehalt.
Tätigkeitsbezogene Weiterbildungsangebote.
Gemeinschaftliches Arbeiten und Lernen.
Gemeinsame Freizeitaktivitäten.
Frühe Verantwortung ohne zu überfordern.
Freiraum für Entscheidungen und Selbstverwirklichung.
Wir streben eine Übernahme nach dem Studienabschluss an.
Zukunftssichere Partnerschaft.
The publisher indicated in each case is solely responsible for the press releases above, the event or job offer displayed, and the image and sound material used (see company info when clicking on image/message title or company info right column). As a rule, the publisher is also the author of the press releases and the attached image, sound and information material.
The use of information published here for personal information and editorial processing is generally free of charge. Please clarify any copyright issues with the stated publisher before further use. In the event of publication, please send a specimen copy to
service@pressebox.de
.