Elektroplaner/Konstrukteur EMSR (m/w/d)

(Part-time | Merseburg)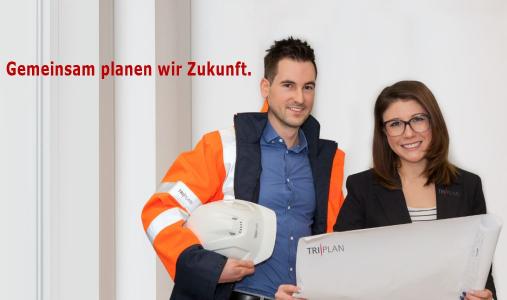 Wir bieten:
Unbefristete Arbeitsverträge • 13 Gehälter • 30 Tage Urlaub ● Softwareschulungen & Sprachkurse • Gleitzeitregelung • individuelle Teilzeitmodelle • Teamcoaching & Mentoring • Betriebliche Altersversorgung • Unfallversicherung • Gesundheitsmanagement
Jetzt bewerben
! Sichern Sie sich Ihr persönliches Telefoninterview optional auf Deutsch, Englisch oder Spanisch.
Wir 
TRIPLAN
er mit über 50-jähriger Marktpräsenz sind gefragter Engineering-Partner der europäischen Chemieindustrie. Das Spektrum deckt die gesamte Wertschöpfungskette des Chemie-Engineerings vom technischen Consulting über die betriebsnahe Planung bis hin zur Gesamtplanung von Prozessanlagen ab. Unsere TTP-Unternehmensgruppe mit den operativen Marken TRIPLAN und PHARMAPLAN und mehr als 900 Mitarbeitern bietet Ingenieurdienstleistungen für die Prozessindustrie in den Branchen Chemie, Pharma, Life-Science, Raffinerie und Petrochemie an Standorten in Deutschland, Schweiz, Frankreich, Belgien und Indien an.
Ihre Aufgaben:
Ausarbeiten von Konzepten und Lösungen im Automatisierungsbereich im Bereich Raffinerie & Petrochemie
Schnittstellen- und Gewerkübergreifende Ausrichtung
Erstellen von Konzepten unter Beachtung der Anforderungen für Sicherheit, Verfügbarkeit, Redundanzen
Planung von elektrotechnischen Einrichtungen im Niederspannungsbereich, wie

Erdung , Blitzschutz
Energieverteilanlagen, Energie- und Kabelnetze
Niederspannungshauptverteiler, konventionell, MCC
USV-Anlagen,
NS-Motoren, Frequenzumrichter
Beleuchtungsanlagen

Planung von MSR-Anlagen, mit Zielsetzung des elektrischen Explosionsschutzes und funktionaler Sicherheit.
Messtechnische Auslegung von Feldgeräten
Projektierung von Mess- und Regelkreisen
Erstellung der EMSR – Dokumentation, CAD-unterstützt.
Ihr Profil:
Erfolgreich abgeschlossene Technikerausbildung, oder abgeschlossene Ausbildung im Bereich der Elektrotechnik
Berufserfahrung ist von Vorteil, jedoch nicht Voraussetzung
Souveräner Umgang mit elektrotechnischen Dokumenten, Spezifikationen, technischen Datenblättern.
Interesse an selbstständiger Arbeit
Führerschein der Klasse B.
Wir freuen uns auf Ihre Bewerbung! Auf Sie wartet ein herausforderndes, interessantes Betätigungsfeld und ein attraktives Gehalt mit den Sozialleistungen eines modernen Unternehmens.
Bitte übermitteln Sie Ihre Bewerbung online über unser Bewerberportal inklusive der Angabe Ihrer Gehaltsvorstellung und Ihrer Verfügbarkeit.
The publisher indicated in each case is solely responsible for the press releases above, the event or job offer displayed, and the image and sound material used (see company info when clicking on image/message title or company info right column). As a rule, the publisher is also the author of the press releases and the attached image, sound and information material.
The use of information published here for personal information and editorial processing is generally free of charge. Please clarify any copyright issues with the stated publisher before further use. In the event of publication, please send a specimen copy to
service@pressebox.de
.