Master Data Management Consultant (m/w/d)

(Full-time | Melbourne)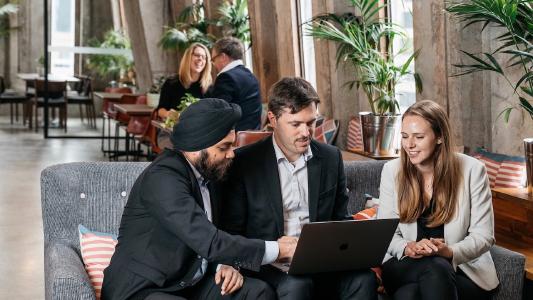 Wir sind auf der Suche nach einem einem Product Master Data Management Consultant 
Bist du daran interessiert, branchenübergreifende Produktstammdaten-Management-Lösungen zu entwickeln und zu implementieren? Arbeitest du gerne an intelligenten Lösungen, die die Erwartungen der Geschäftskunden übertreffen? Wir freuen uns auf dich! Bei for​you​and​your​cus​tom​ers beraten, entwickeln und begleiten 175 Experten, an 14 Standorten, Unternehmen im Multichannel Business.
Die Unternehmen der foryouandyourcustomers Gruppe zählen zu den besten Arbeitgebern in Europa und Australien. Als Diamant Partner von Stibo Systems gehören wir zu den erfahrensten System-Integratoren und Beratungsunternehmen des Master Data Management Systems STEP. Du kannst Teil unseres Stibo STEP-Lösungsteams, inmitten unserer kürzlich eingerichteten Büroräumlichkeiten in Melbourne werden. Deine Aufgabe ist es, zusammen mit einem agilen Projektteam Produktinformationsmanagement-Lösungen mithilfe von STEP, zu entwerfen und zu implementieren.
Zu deinen Aufgaben gehört
Kundenanforderungen zu analysieren und zu dokumentieren.
Unterstützung bei der Gestaltung von Produkt-MDM-Lösungen in Übereinstimmung mit den vereinbarten Anforderungen und der Methodik von foryouandyourcustomers zu bieten. 
Entwicklung von Produkt-MDM-Anwendungen einschließlich Geschäftsregeln, Web-UIs und Endpunkten.
Unterstützung bei der Definition von Datenmodellen, Produkthierarchien und Systemarchitekturen zu bieten.
Identifizierung von Risiken, Problemen und Problembereichen und Durchführung von Schritten zu deren Lösung.
Mentoring und Unterstützung anderer Teammitglieder.
Gewährleistung eines qualitativ hochwertigen Entwicklungsprozesses, einschließlich einer kontinuierlichen Verbesserung des Qualitätsprozesses.
Die Stelle ist in Melbourne, Australien, angesiedelt, aber Reisen können erforderlich sein (einschließlich möglicher Reisen zu unseren ausländischen Unternehmen und Kunden).
Deine Fähigkeiten und Fertigkeiten 
2 bis 5 Jahre technische Erfahrung in der Arbeit mit MDM-bezogenen Anwendungen, relationalen Datenbanken und Skriptsprachen.
Erfahrung mit einer Programmiersprache wie JavaScript oder Java ist ein Muss.
Erfahrung in der Definition und Implementierung von Produkt-MDM als Entwickler oder Anwendungsberater ist von Vorteil.
Erfahrung mit API-Technologien (REST, SOAP), HTML, CSS, XSLT.
Datenmodellierungskenntnisse sind von Vorteil.
Erfahrung mit der STEP-Lösung von Stibo ist ein starkes Plus.
Kenntnisse in einem oder mehreren der folgenden Bereiche: E-Commerce-Lösungen, IT-Lösungen für den Einzelhandel, Product Information Management (PIM), CRM, BI-Technologien.
Kundenfokussiert – angetrieben durch den Mehrwert für unsere Kunden.
Teamfähig
Uneingeschränktes Recht, in Australien zu arbeiten und zu leben (Staatsbürger/ständiger Wohnsitz).
Was du von uns erwarten kannst
Wir suchen nach einfachen, unbürokratischen Lösungen, unterstützen uns gegenseitig, vertrauen einander und arbeiten mit selbstständigen, verantwortungsbewussten Menschen. Außerdem wirst du auch die Zukunft deiner und unserer Kunden in Australien mitgestalten, indem du Teil eines Teams von Technologieexperten bist, das unseren australischen Kundenstamm erweitert.
Unsere Kunden sind große und mittelgroße B2C- und B2B-Unternehmen, viele von ihnen im Einzelhandelsbereich mit einem starken Fokus auf Multichannel-Commerce.
Wir von foryouandyourcustomers bieten ein professionelles und inspirierendes Arbeitsumfeld inmitten von Melbourne, anspruchsvolle Projekte mit namhaften Unternehmen und Kolleginnen und Kollegen, die oftmals zu Freunden werden. Wir garantieren viel Raum für die persönliche und berufliche Entwicklung.
Interessiert? Bitte bewerbe dich auf LinkedIn: hier.
Folgende Fragen sind im Antragsformular enthalten:
Welche der folgenden Aussagen beschreibt deine Berechtigung, in Australien zu arbeiten, am besten?
Wie hoch ist dein erwartetes Jahresgrundgehalt?
Wie viele Jahre Erfahrung hast du bereits in einem agilen Umfeld sammeln können?
Wie viele Jahre Erfahrung hast du in der Software-Entwicklung?
In welcher der angeführten Programmiersprachen hast du Erfahrung?
The publisher indicated in each case is solely responsible for the press releases above, the event or job offer displayed, and the image and sound material used (see company info when clicking on image/message title or company info right column). As a rule, the publisher is also the author of the press releases and the attached image, sound and information material.
The use of information published here for personal information and editorial processing is generally free of charge. Please clarify any copyright issues with the stated publisher before further use. In the event of publication, please send a specimen copy to
service@pressebox.de
.