Fachinformatiker Systemintegration (w/m/d)

(Full-time | Mönchengladbach)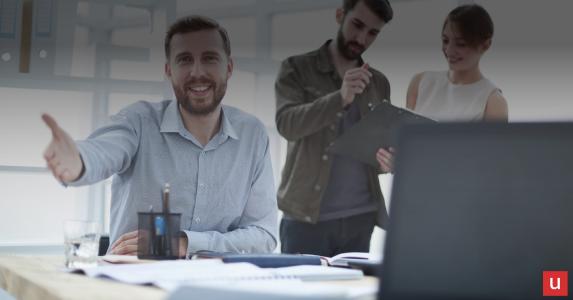 Wir suchen zum nächstmöglichen Zeitpunkt einen Fachinformatiker Systemintegration (w/m/d)
Deine Tätigkeiten:
Analyse, Konzeption und Implementierung von IT-Systemen bei unseren mittelständischen Kunden
Überwachung und Betrieb von IT Umgebungen
Weiterentwicklung der von Dir betreuten IT Umgebungen
Fehleranalyse und Störungsbeseitigung
Du bildest die kompetente Schnittstelle für unseren Kunden zu Hard- und Softwareherstellern, um den kontinuierlichen IT-Betrieb sicherzustellen.
Das bringst Du mit:
Eine technische Ausbildung zum Fachinformatiker Systemintegration, IT Systemadministrator, oder eine vergleichbare Qualifikation
mindestens 3 Jahre Erfahrung im Umgang mit einigen oder allen dieser Themen: Windows-Server-Betriebssysteme, Virtualisierung, Backup, IP-Netzwerke, Firewall
Kommunikationsgeschick zur Vermittlung von Lösungen und Leistungen an unsere Kunden
Du arbeitest gerne im Team, bist selbständig und zuverlässig
Du bist kunden- und serviceorientiert
Du besitzt den Führerschein Klasse B
Wir bieten Dir:
Neue Perspektiven und spannende Herausforderungen durch das kontinuierliche Wachstum der unilab Unternehmensgruppe und dadurch einen sicheren Arbeitsplatz, Festeinstellung und Vollzeitbeschäftigung.
Mit Begeisterung, Neugierde und Tatendrang hast Du gute Entwicklungs- und Aufstiegschancen.
Flache Hierarchien, überschaubare Teams und der direkte Draht zur Geschäftsführung kennzeichnen unsere Organisation. Kommst Du mal nicht weiter, erhältst Du Unterstützung aus dem gesamten Team und von Führungskräften.
Neben einem attraktiven Gehalt bieten wir Dir Fortbildungs- und Entwicklungsmöglichkeiten zum aktuellen Stand der Technik.
Darüber hinaus hast Du weitestgehend den Freiraum Deine Zeiten und Aufgaben selbstständig zu planen. Moderne Arbeitsmittel und Arbeitsplatzausstattung (Smartphone und Notebook) runden das Paket ab.
Du fühlst dich von dieser Stellenbeschreibung angesprochen, hast Spaß an Teamarbeit und zukunftsorientierten Technologien? Dann freuen wir uns auf Deine Bewerbung an marketing@ucs.cloud.
The publisher indicated in each case is solely responsible for the press releases above, the event or job offer displayed, and the image and sound material used (see company info when clicking on image/message title or company info right column). As a rule, the publisher is also the author of the press releases and the attached image, sound and information material.
The use of information published here for personal information and editorial processing is generally free of charge. Please clarify any copyright issues with the stated publisher before further use. In the event of publication, please send a specimen copy to
service@pressebox.de
.