Kundendiensttechniker (m/w/d)

(Full-time | Möhrendorf)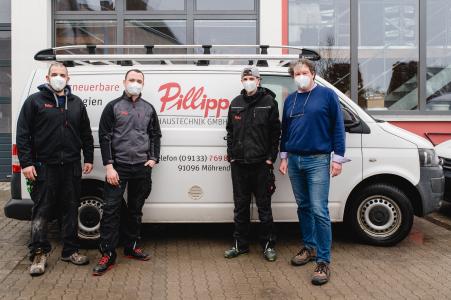 Freude an der Arbeit, Erfolgsdenken und der Wunsch jeden Tag ein bisschen besser zu werden auch im technischen Bereich: Das ist es, was die Pillipp Haustechnik GmbH aus Möhrendorf bei Erlangen antreibt. Heute zählt das fränkische Familienunternehmen mit 45 Mitarbeitenden zu den modernsten Handwerksunternehmen in der Region. Täglich arbeitet das Team daran, Kunden im Bereich der Haustechnik zu begeistern und für Wärme, Wasser, Strom und Lebensqualität zu sorgen.
Mit modernen Heizungsanlagen und Sanitärinstallationen bis hin zu Zukunftsthemen wie nachhaltiger Energieerzeugung und digitalen Erlebnissen im Smart Home. Die hohe Qualität erreicht und hält das Unternehmen auch mit regelmäßigen Weiterbildungen und einer aktiven Nachwuchsförderung.
Ihre Aufgaben:
Sie warten, reparieren und setzen gebäudetechnische Anlagen im Bereich Heizung, Sanitär und kontrollierte Wohnraumlüftung sowie regenerative Systeme instand. Auch die Inbetriebnahme, Funktions- und Sicherheitsprüfungen sowie Störungsanalyse und Störungsbeseitigung gehören zu Ihren täglichen Aufgaben.
Sie erstellen Wartungs-, Inspektions- und Inbetriebnahmeprotokollen und dokumentieren die Leistungserbringung mit unseren digitalen Endgeräten. Außerdem sind Sie unser*e kompetente*r Ansprechpartner*in für Kunden und Kolleg*innen vor Ort.
Ihr Profil:
Sie verfügen über eine abgeschlossene Ausbildung zum Anlagenmechaniker*in für Sanitär-, Heizungs- und Klimatechnik oder einer vergleichbaren technischen Fachrichtung. Sie haben bereits erste Berufserfahrung erworben und können sich für moderne Technik und neue Verfahrensweisen begeistern. Eine selbständige und strukturierte Arbeitsweise zeichnet Sie aus und Sie arbeiten gerne im Team. Kundenorientiertes Handeln ist für Sie selbstverständlich und Sie haben Freude daran, Ihnen einen Mehrwert zu bieten. Außerdem verfügen Sie über einen Führerschein der Klasse B.
Unser Angebot (Benefits):
Wir haben einiges zu bieten:
Herausragende Organisation.
Modernes Werkzeug und Fahrzeuge.
Karrieremöglichkeit für jeden Mitarbeitenden, von Schulungen bis Duales Studium.
Spannende Aufgaben ohne Langeweile.
Wir arbeiten in der Modernisierung als auch im Neubau vorwiegend im Bereich der erneuerbaren Energien mit nachhaltigen Systemen.
Kundenkontakt ist der Regelfall.
Wir sind ein tolles Team, die Chefs sind immer greifbar und arbeiten mit.
Haben wir Ihr Interesse geweckt?
Dann bewerben Sie sich jetzt! Ein Anruf genügt: +49 9133 769890

The publisher indicated in each case is solely responsible for the press releases above, the event or job offer displayed, and the image and sound material used (see company info when clicking on image/message title or company info right column). As a rule, the publisher is also the author of the press releases and the attached image, sound and information material.
The use of information published here for personal information and editorial processing is generally free of charge. Please clarify any copyright issues with the stated publisher before further use. In the event of publication, please send a specimen copy to
service@pressebox.de
.