Senior IT Specialist (m/w/d) - Möglichkeit auf Home-Office

(Full-time | Leipzig)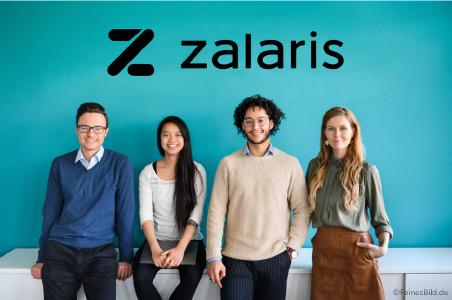 Mit Zalaris als Partner vereinfachen unsere Kunden Prozesse im Personalmanagement und in der Gehaltsabrechnung. Wir liefern konsolidierte Daten für schlanke und effiziente Geschäftsprozesse, die Freiräume für das Kerngeschäft schaffen und Investitionen in die Mitarbeiter ermöglichen, damit sie gemeinsam mehr erreichen. Unsere mehr als 200 Beraterinnen und Berater in Deutschland verfügen über mehr als 20 Jahre Erfahrung in der HR-Transformation. Wir haben drei Werte, die uns bei unserer Arbeit leiten:
Everyone matters. 
Wir glauben, dass niemand besser ist als der andere. Jeder ist wichtig und was sie tun, ist wichtig für alle. Dementsprechend ist unsere Organisation von einer flachen Hierarchiestruktur geprägt. 
Aiming high.
 Wir trauen es uns zu, hohe Ziele zu setzen! #bestingmyself ist unser aller Motto, daher bringen wir immer unser Bestes in das Team ein.
Team spirit.
Wir glauben, dass die besten Ergebnisse nicht dadurch erzielt werden, dass Sie die oder der Beste im Team sind, sondern das Sie das Beste aus ihrem Team herausholen und sich dabei gegenseitig unterstützen bis das Ziel erreicht ist.
Positionsübersicht
Verstärken Sie unser Team als:
Fachinformatiker für Systemintegration (m/w/d) – Standort Leipzig 
Wir bieten Ihnen
Option auf Home Office
Teamorientierte Unternehmenskultur mit flachen Hierarchien und hochmotivierten und qualifizierten Kolleginnen und Kollegen
Flexible Arbeitszeitmodelle und moderne, neue Arbeitsplätze
Umfangreicher Onboarding-Prozess sowie eine intensive Einarbeitung on the job, Bei der Sie von erfahrenen Mitarbeitern begleitet und unterstützt werden
Leistungsgerechtes Vergütungsmodell, das sich an Ihrer Qualifikation und Ihrer Verantwortung orientiert
Attraktive Aus- und Weiterbildungsmöglichkeiten
Attraktive Zusatzleistungen (Zuschüsse zur Altersvorsorge oder VWL, Zuschuss für Fitnessstudio und Jobrad, kostenlose Getränke, frisches Obst, Mitarbeiterevents)
Betriebliches Gesundheitsmanagement
Sehr gute Erreichbarkeit mit öffentlichen Verkehrsmitteln
Ihre Aufgaben
Sie sind für die Betreuung, Anbindung und Weiterentwicklung unserer IT Infrastruktur in Microsoft Azure zuständig.
Auch die Analyse und Bearbeitung von Incidents im Bereich der IT Infrastruktur zählt zu Ihren täglichen Aufgaben.
Zu Ihren Hauptaufgaben gehört der Betrieb und Implementierung von Anwendungsservern und Datenbankenservern.
Die Installation und Aktualisierung von Anwendungssoftware und Datenbanken gehört zu Ihren regelmäßigen Aufgaben ebenso wie der Anwendersupport innerhalb der Zalaris Gruppe.
Weiterhin unterstützen Sie beim Betrieb und Verwaltung der Netzwerkinfrastruktur sowohl innerhalb der Standorte als auch bei der Anbindung von Kunden an unsere Azure Infrastruktur.
Sie sind verantwortlich für die Sicherstellung der ständigen Verfügbarkeit unserer IT Infrastruktur.
Ihr Profil
Abgeschlossene Ausbildung im Bereich Informatik
Mehrjährige Berufserfahrung im Feld der IT
umfangreiche Kenntnisse und Praxiserfahrungen bei der Administration von heterogenen IT-Landschaften (vorrangig Microsoft Azure, On-Premise AD und ggfs. Linux)
umfangreiche Kenntnisse im Umgang mit Firewalls, Routern und anderen Netzwerkkomponenten
Erfahrung und Sicherheit bei der Erstellung von Shell-Skripten in Windows- und Unix-Umgebungen
Praktische Kenntnisse im Umgang mit Ticketsystemen und deren Administration
Sehr gutes analytisches Verständnis
Konstruktive Denk- und Handlungsweise, sowie Lösungs- und zielorientierte Arbeitsweise.
Hohe Dienstleistungs- und Serviceorientierung
Gute Deutsch und Englischkenntnisse
Apply now and join #teamZalaris!       
The publisher indicated in each case is solely responsible for the press releases above, the event or job offer displayed, and the image and sound material used (see company info when clicking on image/message title or company info right column). As a rule, the publisher is also the author of the press releases and the attached image, sound and information material.
The use of information published here for personal information and editorial processing is generally free of charge. Please clarify any copyright issues with the stated publisher before further use. In the event of publication, please send a specimen copy to
service@pressebox.de
.