Duales Studium Informatik (m/w/d) am Standort Leipzig

(Full-time | Leipzig)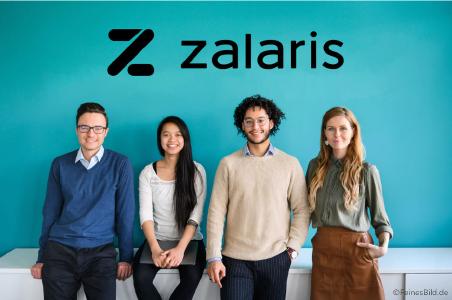 Mit Zalaris als Partner vereinfachen unsere Kunden Prozesse im Personalmanagement und in der Gehaltsabrechnung. Wir liefern konsolidierte Daten für schlanke und effiziente Geschäftsprozesse, die Freiräume für das Kerngeschäft schaffen und Investitionen in die Mitarbeiter ermöglichen, damit sie gemeinsam mehr erreichen. Unsere mehr als 200 Beraterinnen und Berater in Deutschland verfügen über mehr als 20 Jahre Erfahrung in der HR-Transformation. Wir haben drei Werte, die uns bei unserer Arbeit leiten:
Everyone matters. 
Wir glauben, dass niemand besser ist als der andere. Jeder ist wichtig und was sie tun, ist wichtig für alle. Dementsprechend ist unsere Organisation von einer flachen Hierarchiestruktur geprägt. 
Aiming high.
 Wir trauen es uns zu, hohe Ziele zu setzen! #bestingmyself ist unser aller Motto, daher bringen wir immer unser Bestes in das Team ein.
Team spirit.
Wir glauben, dass die besten Ergebnisse nicht dadurch erzielt werden, dass Sie die oder der Beste im Team sind, sondern das Sie das Beste aus ihrem Team herausholen und sich dabei gegenseitig unterstützen bis das Ziel erreicht ist.
Starte bei uns am 1. Oktober 2021 ein
Duales Bachelor-Studium der Informatik (B.Sc.) 
Wir bieten Dir
Teamorientierte Unternehmenskultur mit flachen Hierarchien
Attraktive Ausbildung und persönliche Betreuung
Sehr gute Erreichbarkeit mit öffentlichen Verkehrsmitteln
Komplettausstattung mit moderner Hardware inklusive Smartphone
Die Berufsakademie Sachsen als unseren Partner: https://www.ba-leipzig.de/studienangebote/informatik
Spannende und abwechslungsreiche Aufgaben in einem internationalen Umfeld
Sehr gute Chancen auf Übernahme und persönliche Weiterentwicklung
Flexible Arbeitszeitmodelle 
Umfangreicher Onboarding-Prozess sowie eine intensive Einarbeitung on the job
Begleitung und Unterstützung durch unsere erfahrenen Mitarbeiter/innen
Deine Aufgaben
Konzipiere und implementiere Entwicklungsaufträge für Produkte und Lösungen auf SAP HCM
Unterstütze die Entwicklung und Wartung unserer SAP-Erweiterungen
Wirke tatkräftig bei der Konzipierung und Umsetzung von Produktanforderungen inkl. Kundenbetreuung im Bereich des Produktsupports mit
Lerne unsere unternehmensinternen Prozesse aus unterschiedlichen Perspektiven kennen
Dein Profil
Abitur oder eine Fachhochschulreife mit guten bis sehr guten Noten
Verhandlungssicheres Deutsch und gutes Englisch (B2-Level)
Interesse an IT 
Erste grundlegende Programmier- und Datenbankkenntnisse 
Die Übernahme der Verantwortung für deine Aufgaben und Zuständigkeiten ist für dich selbstverständlich
Spaß am logischen Denken und eine selbstständige Arbeitsweise
Bewerbe Dich jetzt und schließe Dich dem #teamZalaris an!      
The publisher indicated in each case is solely responsible for the press releases above, the event or job offer displayed, and the image and sound material used (see company info when clicking on image/message title or company info right column). As a rule, the publisher is also the author of the press releases and the attached image, sound and information material.
The use of information published here for personal information and editorial processing is generally free of charge. Please clarify any copyright issues with the stated publisher before further use. In the event of publication, please send a specimen copy to
service@pressebox.de
.