Senior UX-Designer (m/w/d)

(Full-time | Feldkirch)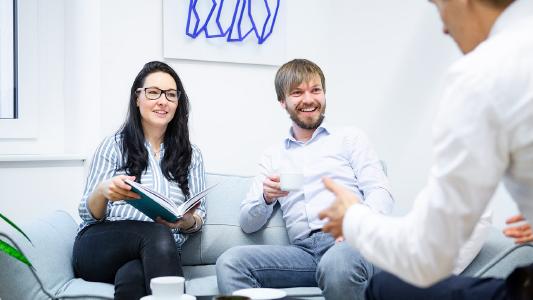 Das Team am Standort Feldkirch sucht begeisterte und begeisternde Senior UX-Designer (m/w/d)
Zur Unterstützung unseres Teams in Feldkirch, in Vorarlberg suchen wir nach einem Senior UX-Designer (m/w/d). Feldkirch ist einer von derzeit 14 for​you​and​your​cus​tom​ers Standorten in Europa und Australien, an denen 175 Experten innovative Lösungen für das Multichannel Business unserer Kunden entwickeln. Werde Teil unseres Teams, konzipiere, gestalte und verbessere durchdachte Benutzererlebnisse für uns und unsere Kunden.
Wir freuen uns auf dich und deine Talente
Es fällt dir leicht, auf Grund deiner Ausbildung, deiner Neugierde zu lernen und deiner Erfahrungen begehrenswerte, gebrauchsfähige und überraschend einfache Nutzererlebnisse im Digitalen zu planen und zu gestalten.
Es macht dir Freude, zusammen mit deinen Kolleginnen und Kollegen als auch zusammen mit unseren Kunden an konzeptionellen Aufgaben zu arbeiten und im gemeinsamen Tun eine ästhetisch attraktive Lösung zu entwerfen, die auch den beabsichtigten Nutzen stiftet.
Es ist für dich selbstverständlich, den Designprozess durch Prototypen zu begleiten und das gemeinsame Problembewusstsein mit geeigneten Methoden aus dem Service-Design zu schärfen.
Es gehört für dich zur Routine, dich mit den zeitgemäßen Werkzeugen zur digitalen Gestaltung (beispielsweise Sketch-App, Axure RP) und Gestaltungsprinzipien (beispielsweise Digital Design Systems, Responsive Web Design) vertraut zu machen.
Es ist klar, dass du verantwortungsbewusst, selbstständig und aufgeschlossen mit deinen Kolleginnen und Kollegen zusammenarbeitest und unseren Kunden mit Freundlichkeit und Wertschätzung begegnest.
Überraschend einfach, beziehungsfähig, wegweisend und durchdacht: Einfach integral.
Inmitten von Feldkirch bieten wir dir ein inspirierendes Arbeitsumfeld umgeben von Kunst und großen, hellen Räumen.
Soziale Innovationen wie beispielsweise Lohntransparenz, jeden Montag eine Einladung zum Mittagessen für alle Mitarbeitenden, Teamevents und Weiterbildungen sind uns wichtig.
Unsere Kunden sind europaweit angesehen, anspruchsvoll und halten für dich stets spannende Herausforderungen bereit.
Zu deinen Aufgaben gehört es auch, foryouandyourcustomers Feldkirch mitzugestalten und die Gruppe mit deinen Fähigkeiten zu unterstützen.
Wir wertschätzen dich und deine Arbeit und gehen respektvoll miteinander um. Dabei bleibt dir stets viel Raum für deine persönliche und fachliche Entwicklung.
Das Gehalt orientiert sich an EUR 4.500,– brutto/Monat und wird der Erfahrung und den Fähigkeiten entsprechend angepasst. Zudem fördern wir eigene Ideen und den Austausch innerhalb und außerhalb der Gruppe. Flexible Arbeitszeiten und Teilzeit (ab 60%) können selbstverständlich vereinbart werden.
Erfahre mehr über foryouandyourcustomers und den Standort in Feldkirch
Bewerbe dich bei uns
Das Team in Feldkirch freut sich auf dich und über deine Bewerbung mit Arbeitsproben an 
feldkirch@foryouandyourcustomers.com
. Gerne beantworten wir deine Fragen auch telefonisch 0664 / 228 29 89. Wir freuen uns über eine Kontaktaufnahme mit uns!
The publisher indicated in each case is solely responsible for the press releases above, the event or job offer displayed, and the image and sound material used (see company info when clicking on image/message title or company info right column). As a rule, the publisher is also the author of the press releases and the attached image, sound and information material.
The use of information published here for personal information and editorial processing is generally free of charge. Please clarify any copyright issues with the stated publisher before further use. In the event of publication, please send a specimen copy to
service@pressebox.de
.