Industriemechaniker (m/w/d)

(Full-time | Erkrath)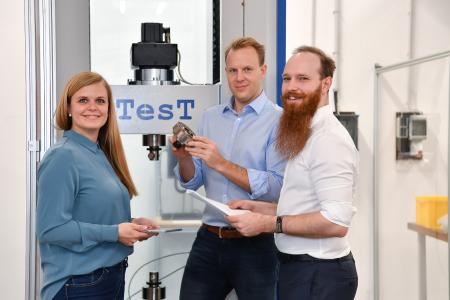 Familiengeführtes Unternehmen in zweiter Generation
mit einem umfangreichen Produkt- und Dienstleistungsspektrum für die Mess- und Prüftechnik
Die
TesT GmbH
agiert seit über 25 Jahren erfolgreich als mittelständisches Unternehmen im Bereich der Werkstoff- und Funktionsprüfung. Als innovativer Marktführer liefern wir neben einem breiten Standardproduktspektrum vor allem individuell entwickelte Maschinen für unsere weltweiten Kunden.
Die hohe Qualität und Präzision unserer Maschinen sowie das Wissen und Engagement unserer Mitarbeiter zeichnen uns als Lieferanten und Arbeitgeber zugleich aus.
Der Firmensitz in Erkrath liegt verkehrsgünstig im direkten Einzugsgebiet von Düsseldorf und Wuppertal. Im Zuge unseres kontinuierlichen Wachstums suchen wir für sofort oder nach Absprache einen
Industriemechaniker (m/w/d).
So überzeugen wir Dich: Dein Aufgabengebiet
Montage und Installation von Prüfmaschinen und Messgeräten
Zusammenbau von Maschinen und Baugruppen nach Plänen, Zeichnungen, Stücklisten oder 3-D-Modellen
Durchführung der mechanischen End- und Funktionskontrolle
Fertigung von Qualitätsprodukten und Verantwortung für deren Qualität
Fehlersuche und Fehlerbehebung an Maschinen und Bauteilen
Aktive Mitgestaltung des kontinuierlichen Verbesserungsprozesses
So überzeugst Du uns: Das bringst du mit
Erfolgreich abgeschlossene Berufsausbildung als Industriemechaniker (m/w/d) oder in einer vergleichbaren Qualifikation
Berufserfahrung von 5 bis 10 Jahren
Erfahrung in der Montage von Maschinen und Anlagen
Kenntnisse im allgemeinen Maschinenbau, Hydraulik, Pneumatik und der Mess- und Regelungstechnik
Ergebnisorientierte und selbstständige Denk- und Arbeitsweise
Sorgfältigkeit, Zuverlässigkeit, Teamfähigkeit und Flexibilität
Ausgeprägter Sinn für Präzision und hohes Qualitätsbewusstsein
Eigeninitiative, Engagement und Lernbereitschaft
Sehr gute Deutschkenntnisse in Wort und Schrift, gute Englischkenntnisse
Reisebereitschaft für gelegentliche Einsätze bei europäischen Kunden
Führerschein Klasse B
Darauf kannst du dich freuen: Das bieten wir dir
Herausforderndes und abwechslungsreiches Aufgabenfeld
Unbefristeter Arbeitsplatz mit langfristiger Perspektive, sicher und zukunftsorientiert
Familiengeführtes Unternehmen in einem international tägigen Umfeld
Attraktive, leistungsgerechte Vergütung
Zielorientierte Personalentwicklung und Weiterbildungsmöglichkeiten
Familienfreundliche Personalpolitik
Betriebliche Altersvorsorge, Fahrradleasing
Private und berufliche Gruppenunfallversicherung
30 Tage Urlaub pro Jahr
Flexible Arbeitszeiten dank Gleitzeitkonto
Angenehmes Betriebsklima, nette Kollegen, flache Hierarchien und Zusammenarbeit auf Augenhöhe
Wir freuen uns über die Zusendung deiner aussagekräftigen Bewerbungsunterlagen unter Angabe deiner Gehaltsvorstellung an: Julia.Kiewitter@test-gmbh.com
TesT GmbH
Hd. Julia Kiewitter
Helena-Rubinstein-Str. 4
40699 Erkrath
The publisher indicated in each case is solely responsible for the press releases above, the event or job offer displayed, and the image and sound material used (see company info when clicking on image/message title or company info right column). As a rule, the publisher is also the author of the press releases and the attached image, sound and information material.
The use of information published here for personal information and editorial processing is generally free of charge. Please clarify any copyright issues with the stated publisher before further use. In the event of publication, please send a specimen copy to
service@pressebox.de
.