Technischer Service- & Vertriebsmitarbeiter von modernen Lacken, Ölen & Wachsen für den Holzinnenausbau

(Full-time | Brannenburg)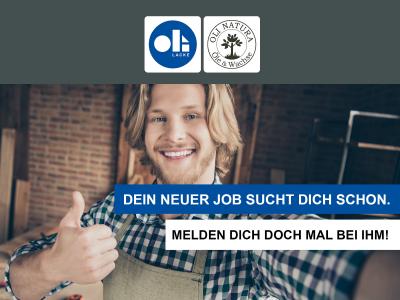 Wir erweitern unser Serviceteam am Standort 
in Lichtenau bei Chemnitz
 & 
in Brannenburg bei Rosenheim
 und suchen junge Talente & motivierte Holztechniker, Tischler, Schreiner oder Parkettleger im:  
TECHNISCHEN SERVICE & VERTRIEB (M/W/D)
MACH, WAS DU LIEBST
Du liebst Holz und hast eine Affinität zu natürlichen Ölen & Wachsen
Du magst es, in Wort und Schrift zu beraten und bringst Dein Kommunikationstalent bei der Produktempfehlung ein
Es bereitet Dir Freude, Produktfragen zu beantworten - egal ob telefonisch oder via E-Mail, Social Media Accounts oder Zoom-Meetings
Du gibst Dein Wissen gerne weiter, stellst in Live-Webinaren Produkte vor und zeigst deren Anwendung
ZEIG, WAS DU KANNST
Du bist Holztechniker oder hast eine abgeschlossene Ausbildung als Schreiner, Tischler oder Parkettleger
Du bist ein Kommunikations- und Schreibtalent, kennst Dich perfekt in Deutsch aus und beherrschst eine korrekte Rechtschreibung
Du besitzt die Fähigkeit, verschiedene Themen kompakt und verständlich darzustellen
Du bist zuverlässig, engagiert, arbeitest eingenverantwortlich und bringst eine hohe Reisebereitschaft mit
Bei uns gelten flache Hierarchien und ein Prinzip der offenen Tür. Ein weiterer Pluspunkt: Wir bilden Dich weiter und bringen Dich in Deiner beruflichen Entwicklung einen großen Schritt nach vorn.
WAS MACHT EIN TECHNISCHER SERVICE- & VERTRIEBSMITARBEITER BEI OLI? 
Nachdem Kunden unsere Lacke, Öle und Wachse gekauft haben, ist es an Dir, bei Fragen den Supportbedarf der Kunden einzuschätzen und ihnen dann passende Lösungen anzubieten. Zu unseren Kunden zählen Tischler, Schreiner, Innenausbauer, Treppenbauer und Parkettleger genauso wie Heimwerker.
Als Technischer Service- & Vertriebsmitarbeiter berätst Du Neu- und Bestandskunden. Dein Tag ist ausgefüllt mit vielfältigen Serviceaufgaben: Du hilfst unseren Kunden bei der Produktauswahl, beantwortest ihre Produktfragen und gibst Anwendungsempfehlungen. Nach einer intensiven Einarbeitungszeit führst Du persönliche Kundengespräche. Du hältst Händlerschulungen, gibst Kundenseminare und präsentierst neue und weiterentwickelte Produkte in der Theorie und Praxis. Dabei hast Du immer ein Auge für die passenden Cross-Selling-Produkte.
Dein Service am Kunden erfolgt telefonisch, via E-Mail, Zoom-Meeting, Live-Webinar oder direkt vor Ort beim gewerblichen Verarbeiter. Daher solltest Du ein Kommunikations- und Schreibtalent sein sowie eine korrekte Rechtschreibung beherrschen. Außerdem bringst Du die Flexibilität mit, regelmäßig zwischen verschiedenen technischen Bereichen und Anforderungen zu wechseln.
Das gesamte Unternehmen profitiert von Deinem Engagement, Kunden den bestmöglichen Service zu bieten. Durch den Aufbau beständiger Kundenbeziehungen trägst Du entscheidend zu unserem Erfolg bei.
Du kannst Dich auf eine Vollzeitstelle am Standort in 
Lichtenau bei Chemnitz
 oder i
n Brannenburg bei Rosenheim
 bewerben.
Wir freuen uns auf Deine Bewerbung und sind bei Fragen gerne für Dich da.
Deine Oli Lacke GmbH, www.oli-lacke.de, jobs@oli-lacke.de  
The publisher indicated in each case is solely responsible for the press releases above, the event or job offer displayed, and the image and sound material used (see company info when clicking on image/message title or company info right column). As a rule, the publisher is also the author of the press releases and the attached image, sound and information material.
The use of information published here for personal information and editorial processing is generally free of charge. Please clarify any copyright issues with the stated publisher before further use. In the event of publication, please send a specimen copy to
service@pressebox.de
.