Health, Safety and Environment HSE Ingenieur (m/w/d)

(Full-time | Basel)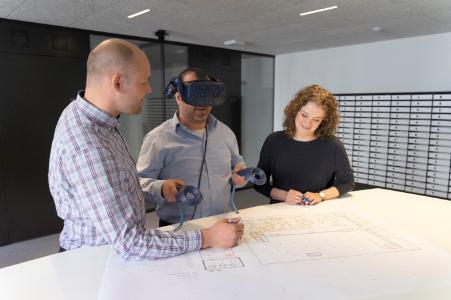 Wir suchen zum nächstmöglichen Zeitpunkt für unseren Standort Basel und unsere Projektstandorte in Basel, Bern oder Visp eine/n
Health, Safety and Environment HSE Ingenieur (m/w/d) – Vollzeit (100%)
PASSION FOR PHARMA ENGINEERING: 
Dafür steht Pharmaplan. Als eines der führenden Pharma-Consulting und -Engineering Unternehmen in Europa, sind wir auf integrierte und ganzheitliche Planung und Realisierung von Pharmaproduktionsstätten spezialisiert und gestalten so die Zukunft unserer Branche. Mit unseren hochqualifizierten Mitarbeitenden aus den Bereichen Project Management, Process Engineering, GMP, Laborplanung, Architektur, TGA und Digital Factory stellen wir die Weichen für die weltweite Medikamentenversorgung von morgen.
Unter der Dachorganisation der TTP Group mit rund 900 Mitarbeitenden an über 20 internationalen Standorten, unterstützen wir die pharmazeutische und biotechnologische Industrie mit flexiblen, GMP-konformen und zukunftssicheren Lösungen. Von der Initiierung über den Bau bis zur Übergabe wickeln wir für unsere Kunden Projekte aller Größen ab.
Die Sicherstellung der Pharmaproduktion in Europa ist bedeutender denn je. Werden auch Sie Teil unserer Pharmaplan Mission!
Ihr Profil
Als Health, Safety and Environment HSE Ingenieur übernehmen Sie folgende Aufgaben – auch direkt vor Ort bei unseren Kunden der pharmazeutischen Industrie:
HSE – Management
HSE – Reporting und Mapping
Erarbeitung von Sicherheitskonzept
Anlagen- und Prozesssicherheit
Explosionsschutz
Maschinensicherheit
Containmentkonzept
Arbeitsplatzbeurteilung
Gefährdungsbeurteilungen
Teilnahme und/oder Moderation von Risikoanalysen (HAZOP, Zürchermethode)
Area Riskassesment
Allgemeiner Projektsupport
Behördenengineering
Bauauflagennachverfolgung
Sicherheitsbegehungen
Massnahmennachverfolgung
Koordination der Baustellensicherheit
Die bereits vorhandenen Instrumente und Prozesse pflegen und optimieren Sie kontinuierlich weiter bzw. bauen neue auf. Selbständiges, analytisches, genaues und eigenverantwortliches Arbeiten sind Sie gewohnt.
Ihre Qualifikationen
Abgeschlossenes Studium der Verfahrenstechnik, Chemieingenieurwesens, Pharmatechnik, Biotechnologie oder Vergleichbares
Weiterbildung zum EKAS Sicherheitsingenieur, Sicherheitsfachkraft oder SiGeKo
Idealerweise 2 Jahre Berufserfahrung
Gute Kenntnisse im Umgang mit MS Office-Anwendungen sind für Sie selbstverständlich. Neben guten Deutschkenntnissen sind Sie vertraut mit der englischen Sprache.
Persönlich zeichnen Sie sich durch eine schnelle Auffassungsgabe, hohe Einsatzbereitschaft und Belastbarkeit sowie Flexibilität aus.
Ihre Erfolge erreichen Sie gerne im Team und besitzen dafür das notwendige Durchsetzungsvermögen sowie Kommunikationsstärke. Auch in hektischen Situationen bewahren Sie den Blick für das Wesentliche.
Sie können sich hervorragend in Kunden hineinversetzen, verfügen über die Fähigkeit zu begeistern und beweisen auch in Kundenbeziehungen Führungsqualitäten. Des Weiteren sind Sie engagiert und voller Leidenschaft für Ihre Arbeit.
Wir bieten
Spannende und abwechslungsreiche Aufgaben in einem dynamischen Umfeld
Entwicklungsmöglichkeiten in einer stark wachsenden Unternehmung
Vielfältige interne Schulungen und Weiterbildungsangebote
Ein Arbeitsumfeld, welches offen gegenüber innovativen Ideen und Anregungen ist
Attraktive Freizeitangebote und Teambuildingevents
Kontakt
Um mehr über diese Stelle zu erfahren, wenden Sie sich bitte an Frau Susanne Bütikofer und Frau Meret Schori unter der Telefonnummer: 0041 (0) 61 307-9670.
Bewerbung
Bitte übermitteln Sie Ihre Bewerbung online inklusive der Angabe Ihrer Gehaltsvorstellung und Ihrer Verfügbarkeit.
Wir können nur Direktbewerbungen berücksichtigen.
The publisher indicated in each case is solely responsible for the press releases above, the event or job offer displayed, and the image and sound material used (see company info when clicking on image/message title or company info right column). As a rule, the publisher is also the author of the press releases and the attached image, sound and information material.
The use of information published here for personal information and editorial processing is generally free of charge. Please clarify any copyright issues with the stated publisher before further use. In the event of publication, please send a specimen copy to
service@pressebox.de
.