MDM/PIM Solution Architect (m/w/d)

(Full-time | Baar)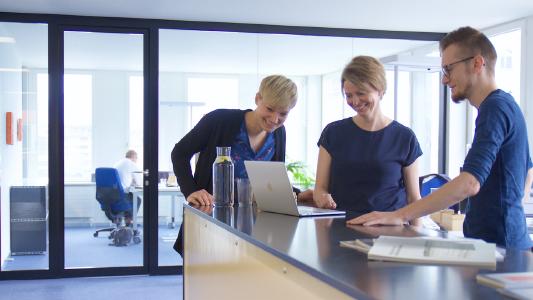 Am Standort Baar sucht das Team nach einem MDM/PIM Solution Architect (m/w/d)
Zur Unterstützung unseres Teams in 
Baar
 sucht for​you​and​your​cus​tom​ers nach einem MDM/PIM Solution Architect (m/w/d), der für unsere Kunden mit viel Wissen und Erfahrung die technische Konzeption und die Lösungsumsetzung verantwortet. Unser Team von 175 Experten plant, entwirft und entwickelt international an 14 Standorten durchdachte Lösungen für das Multichannel Business. 
Seit 2010 begleitet foryouandyourcustomers Unternehmen im digitalen Wandel. Dabei analysieren, beraten, konzipieren und entwickeln wir mit einer integralen Sichtweise. Wir begleiten unsere Kunden in Analyse- und Strategieprojekten, geben Orientierung zu Customer Centricity und Organisationsentwicklung und setzen wegweisende und durchdachte Multichannel-Lösungen wie Onlineshops, digitale Portale oder PIM- und Master Data Management-Systeme um.
Wir freuen uns auf dich
Direkt am Bahnhof in Baar bieten wir dir ein inspirierendes Arbeitsumfeld, umgeben von Kunst und großen, hellen Räumen.
Unsere Kunden sind europaweit angesehen, anspruchsvoll und halten für dich stets spannende Herausforderungen bereit.
Zu deinen Aufgaben gehört es auch, foryouandyourcustomers Baar mitzugestalten und die Gruppe mit deinen Fähigkeiten zu unterstützen.
Wir schätzen dich und deine Arbeit und gehen respektvoll miteinander um. Dabei bleibt dir stets viel Raum für deine persönliche und fachliche Entwicklung.
Das Gehalt orientiert sich am Kollektiv und wird der Erfahrung und den Fähigkeiten entsprechend angepasst. Flexible Arbeitszeiten und Teilzeit (ab 60%) können vereinbart werden.
Deine Aufgaben bei foryouandyourcustomers
Du entwickelst und verantwortest Konzepte und Lösungen für MDM/PIM-Anwendungen auf technischer Ebene.
Du arbeitest direkt mit dem Kunden zusammen und hast dabei eine führende Rolle in der Aufnahme der Geschäftsanforderungen. Das Schreiben technischer User Stories obliegt dir.
Du setzt die Lösung mit deinem STEP Know-how und einem Team um.
Unsere Erwartungen an dich 
Wir wünschen uns eine motivierte, einsatzfreudige und aufgeschlossene Persönlichkeit mit Lebenserfahrung, einer positiven Lebenseinstellung sowie Freude am Umgang mit Menschen, welche Aufgaben proaktiv angeht und eigenverantwortlich arbeiten kann. Darüber hinaus bringst du folgende Qualifikationen mit:
Erfahrungen als Solution Architect mit PIM-Systemen.
Erfahrungen im Umfeld MDM/ERP/CRM/PDM/PLM von Vorteil.
Kenntnisse mit Datenmodellierung und Lösungsdesign.
Programmierkenntnisse in JavaScript und idealerweise in Java.
Erfahrung mit HTML und CSS sowie mit API-Technologien wie REST/SOAP.
Affinität für moderne Technologien, idealerweise Erfahrung mit Stibo STEP.
Du hast Freude an Sprache und Kommunikation in Deutsch und Englisch.
Du fühlst dich in der Umgebung der Kunden wohl und hast eine entsprechende Reisebereitschaft.
Du arbeitest eigenverantwortlich und selbstständig.
Abgeschlossene Informatik Lehre oder FH-Studium mit Schwerpunkt (Wirtschafts-) Informatik oder ausgewiesene Fähigkeiten in den oben genannten Gebieten.
Was du von uns erwarten darfst
Unser Standort in Baar ist eine von 14 Zellen von foryouandyourcustomers und befindet sich zentral direkt am Bahnhof gelegen in der Bahnhofstraße 4.
Du kannst dich bei uns in einem einmalig attraktiven Umfeld überdurchschnittlich gut entwickeln, selbstbestimmt arbeiten und einen Beitrag zur weiteren Entwicklung unseres Unternehmens leisten. Einige Aspekte daraus:
Spannende Projekte mit großen internationalen B2C-/B2B-Händlern und Herstellern.
Internationales Umfeld mit Kollegen und Kunden in Europa und Australien.
Flache Hierarchien, viel Raum für Mitgestaltung und eine besondere Kultur, die gepflegt wird.
Ein tolles Team und ein moderner Arbeitsplatz direkt im Herzen der Schweiz.
Bewerbe dich bei uns
Das Team in Baar freut sich über deine E-Mail samt aussagekräftigem CV an 
jev@foryouandyourcustomers.com
. 
The publisher indicated in each case is solely responsible for the press releases above, the event or job offer displayed, and the image and sound material used (see company info when clicking on image/message title or company info right column). As a rule, the publisher is also the author of the press releases and the attached image, sound and information material.
The use of information published here for personal information and editorial processing is generally free of charge. Please clarify any copyright issues with the stated publisher before further use. In the event of publication, please send a specimen copy to
service@pressebox.de
.