Ausbildung Kauffrau/-mann im Groß- und Außenhandel

(Full-time | Altenberge)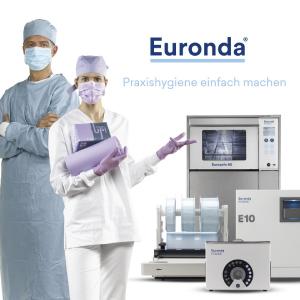 Karrierestart in der Medizinbranche
Die EURONDA Gruppe ist ein innovatives mittelständisches Unternehmen der Dentalbranche. Wir stellen technische Geräte für die Aufbereitung von Medizinprodukten und Bedarfsartikel für Medizin, Pflege und Kosmetik in tollen Farben her. Damit unterstützen wir Zahnärzte, Zahnärztinnen und medizinische Fachkräfte weltweit bei der Infektionskontrolle und verbessern den Praxisalltag. 
Vom deutschen Standort nahe Münster (lebenswerteste Stadt der Welt) betreuen wir mit rund 20 Mitarbeiter:innen Kund:innen in Deutschland und Skandinavien. Qualität, Service, Sicherheit und Kundennähe genießen bei EURONDA einen hohen Stellenwert. Dafür setzt sich ein motiviertes, kreatives und neugieriges Team ein. 
Zum 1.8.2021 oder später bieten wir einen Ausbildungsplatz als Kauffrau/-mann im Groß- und Außenhandel
Dein Profil 
Für diesen kaufmännischen Beruf brauchst du Interesse an wirtschaftlichen und rechtlichen Zusammenhängen. Gute Deutsch-, Englisch- und Mathekenntnisse solltest du aus der Schule mitbringen und gerne mit Office-Programmen am Computer arbeiten. 
Wenn du offen auf Menschen zugehst und gerne in einem Team arbeitest bist du bei uns richtig. Für den Start in die dreijährige Ausbildung wünschen wir uns, dass du die Fachhochschulreife oder Abitur hast. 
Neugierig geworden? Dann freuen wir uns über deine Bewerbung mit Foto, Kopien der letzten Zeugnisse und - wenn du hast - Bescheinigungen über Praktika, FSJ oder andere Aktivitäten. 
Unser Angebot 
Bei Euronda genießt du eine praxisorientierte und fundierte Ausbildung in einem motivierten Team. Wir bilden in der Fachrichtung Groß- und Außenhandel mit Schwerpunkt Vertrieb im Gesundheitswesen aus. 
Du lernst dabei viel über die Besonderheiten beim Handel mit Medizinprodukten und alle Abteilungen des Unternehmens kennen: 
Einkauf 
Logistik 
Buchhaltung
Verkauf 
Marketing
Technik 
In den verschiedenen Fachabteilungen erfährst du, wie der Ein- und Verkauf unserer Waren über Ländergrenzen funktioniert. In unserem Verkaufsteam und an Messeständen sammelst du praktische Erfahrungen in der Bearbeitung von Anfragen, Aufträgen und im direkten Kontakt mit unseren Kund:innen. 
So bewirbst du dich 
Bewerbungen bekommen wir am liebsten per Mail an: bewerbung[at]euronda.de
Alternativ Postandschrift: EURONDA Deutschland GmbH, Gertrud Zurstraßen, Am Landwehrbach 5, 48341 Altenberge  
The publisher indicated in each case is solely responsible for the press releases above, the event or job offer displayed, and the image and sound material used (see company info when clicking on image/message title or company info right column). As a rule, the publisher is also the author of the press releases and the attached image, sound and information material.
The use of information published here for personal information and editorial processing is generally free of charge. Please clarify any copyright issues with the stated publisher before further use. In the event of publication, please send a specimen copy to
service@pressebox.de
.