Ypsomed collaborates with Novo Nordisk to provide new solutions in insulin pump therapy
Burgdorf

, (PresseBox) -
To deliver innovative care solutions, that improve the lives of people with diabetes, is the focus of the collaboration between Ypsomed and Novo Nordisk: Ypsomed's own developed insulin pump mylife™ YpsoPump® is fully compatible with NovoRapid® PumpCart® by Novo Nordisk.

With its icon-based touch screen, mylife™ YpsoPump® is an insulin pump designed by Ypsomed to simplify therapy. It is fully compatible with NovoRapid® PumpCart® by Novo Nordisk, the first prefilled pump cartridge with an insulin ana-logue that has been specifically designed for insulin pumps. EMA, the European Medicines Agency, has granted mar-keting authorisation for use of the mylife™ YpsoPump® with the prefilled pump cartridge by Novo Nordisk.

Ypsomed-CEO Simon Michel greatly values this important partnership: "This collaboration creates real added value for people with diabetes in the daily use and for healthcare professionals in the diabetes care management. It offers new opportunities to simplify insulin pump therapy and to improve therapy outcomes."

"Insulin pump therapy can be an effective option for helping some people with diabetes, particularly those living with type 1 diabetes, however, operating a traditional insulin pump, and manually filling the insulin reservoir, can be com-plex and time-consuming," says Dr Mark Evans, lecturer and honorary consultant in medicine at the University of Cambridge. "Given these factors, and the burden put upon health systems to train patients to use traditional pumps, efforts to simplify the process are truly welcomed."

The EMA-approval is the starting signal of the Ypsomed launch of mylife™ YpsoPump® in Europe. Ypsomed intends to provide its insulin pump to people with diabetes first in the Netherlands, followed by UK and Germany. Further coun-tries will follow in 2017

About insulin pump therapy

An insulin pump delivers insulin from a reservoir inside the pump to a patient's body using an infusion set and a tiny cannula. Insulin pumps use bolus insulin such as insulin aspart. The insulin is delivered using continuous infusion and is often used by people with type 1 diabetes who receive intensified insulin therapy and test their blood glucose levels on a regular basis. In Europe, use of insulin pumps among people with type 1 diabetes varies, with less than 5% using a pump in some countries and more than 15% in other countries.
Ypsomed AG
The Ypsomed Group is a leading developer and manufacturer of injection and infusion systems for self-medication and a renowned diabetes specialist with over 30 years' experience. As a leader in innovation and technology, Ypsomed is the preferred partner for pharmaceutical and biotech companies for the supply of pens, autoinjectors and infusion systems to administer liquid drugs. Ypsomed promotes and sells its product portfolio under the umbrella brands mylife™ Diabetescare directly to patients or through pharmacies and clinics and under YDS™ Ypsomed Delivery Systems as business-to-business to pharmaceutical companies. Ypsomed has its headquarters in Burgdorf, Switzerland, and operates a global network of manufacturing sites, subsidiaries and distributors. The Ypsomed Group employs around 1'200 employees.
Press releases you might also be interested in
Weitere Informationen zum Thema "Medizintechnik":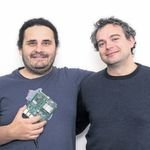 Diagnose mit der Intelligenz des Bauchgefühls
Ein Sound-Er­ken­nungs­sys­tem ana­ly­siert tech­ni­sche Pro­b­le­me bei Ma­schi­nen auf der Grund­la­ge von Be­triebs­ge­räu­schen und löst Alarm aus.
Weiterlesen