Ym Biosciences Reports Nimotuzumab Nsclc Clinical Data at Asco Annual Meeting
Mississauga, Ontario

, (PresseBox) -
/PRNewswire-FirstCall/ - YM BioSciences Inc. (AMEX: YMI, TSX: YM, AIM: YMBA), an oncology company that identifies, develops and commercializes differentiated products for patients worldwide, today announced that updated preliminary trial results, including survival, response rate and overall safety data, from its escalating dose trial of nimotuzumab were presented in a poster presentation on June 1st, 2008 at the Annual Meeting of the American Society of Clinical Oncology (ASCO). The phase I trial is evaluating nimotuzumab, a humanized monoclonal antibody that targets the epidermal growth factor receptor, in combination with external radiotherapy in palliative treatment of patients diagnosed with stage IIb, III or IV non-small cell lung cancer (NSCLC) ineligible for chemotherapy-containing regimens.

"The median survival of 60 weeks in the palliative setting reported in this trial compares favorably with other recent trials in the same scenario, and suggests that the combination of nimotuzumab with radiation has the potential to provide a survival advantage to patients over radiation alone in the curative setting, the only alternative available to patients who are ineligible for, or unable to tolerate, chemotherapy-containing regimens," said David Allan, Chairman and CEO of YM BioSciences. "There is a significant subset of patients whose overall condition does not permit administration of chemotherapy in a combined-modality treatment to enhance their curative prospects."

Substantial radiological responses and meaningful clinical responses were seen in patients treated with the combination of nimotuzumab and radiation in each dosing cohort. This included an 89% Disease Control Rate of which 50% were Partial Responses. Eleven of the 18 patients were Stage IV, five were stage IIIb and two were Stage IIIa. No Stage II patients were enrolled. Patients were treated for eight weeks and then every two weeks until progression. Continued treatment for prolonged periods was very well tolerated and there was no evidence of rash at any of the three dose levels (100mg, 200mg and 400mg). Although the drug specifically targets the EGF receptor, the minimal side-effects, and particularly the absence of severe cases of rash, cutaneous manifestations and hypomagnesemia continue the prospect of nimotuzumab being therapeutically attractive in this setting.

Investigation of nimotuzumab's survival benefit in a curative patient population ineligible for combined-modality treatment is the subject of a planned late stage trial. In a recent palliative trial in Stage III/IV patients (J Clin. Oncol. 2004 Mar 1;22(5):801-10), the median survival in that patient population was reported to be from 6.8 months to 8.2 months (approximately 28-35 weeks). Furthermore, in an RTOG/ECOG trial in Stage III patients who were candidates for curative treatment (J Natl Cancer Inst 1995 Feb 1;87(3):198-205), standard and hyperfractionated radiation in "good risk" patients resulted in a median overall survival of 11.4 and 12.3 months respectively or approximately 47 to 53 weeks. These results are provided for reference only and readers are cautioned that differences in patient populations with respect to YM's phase I or its proposed phase III with historical RT-alone prevent direct comparisons.

"The data from this trial further supported by as-yet unpublished data from a parallel trial in Korea, continue to confirm that as has been established from clinical trials and commercial sales of nimotuzumab in more than 2,500 patients worldwide, nimotuzumab has a visibly and clinically preferential side-effect profile to the other EGFR targeting molecules currently being marketed," added Mr. Allan.

The poster presented at ASCO was entitled: "Preliminary results of an escalating dose phase I clinical trial of the anti-EGFR monoclonal antibody nimotuzumab in combination with external radiotherapy in patients diagnosed with stage IIb, III or IV non-small cell lung cancer (NSCLC) unsuitable for radical therapy" (Abstract number 3037):
YM BioSciences Inc.
YM BioSciences Inc. is an oncology company that identifies, develops and commercializes differentiated products for patients worldwide. The Company has two late-stage products: nimotuzumab, a humanized monoclonal antibody that targets the epidermal growth factor receptor (EGFR) and is approved in several countries for treatment of various types of head and neck cancer; and AeroLEF(TM), a proprietary, inhaled-delivery composition of free and liposome-encapsulated fentanyl in development for the treatment of moderate to severe pain, including cancer pain.

This press release may contain forward-looking statements, which reflect the Company's current expectation regarding future events. These forward-looking statements involve risks and uncertainties that may cause actual results, events or developments to be materially different from any future results, events or developments expressed or implied by such forward-looking statements. Such factors include, but are not limited to, changing market conditions, the successful and timely completion of clinical studies, the establishment of corporate alliances, the impact of competitive products and pricing, new product development, uncertainties related to the regulatory approval process and other risks detailed from time to time in the Company's ongoing quarterly and annual reporting. Certain of the assumptions made in preparing forward-looking statements include but are not limited to the following: that nimotuzumab will continue to demonstrate a competitive safety profile in ongoing and future clinical trials; that AeroLEF(TM) will continue to generate positive efficacy and safety data in future clinical trials; and that YM and its various partners will complete their respective clinical trials within the timelines communicated in this release. We undertake no obligation to publicly update or revise any forward-looking statements, whether as a result of new information, future events or otherwise.
Press releases you might also be interested in
Weitere Informationen zum Thema "Medizintechnik":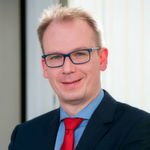 Was erwartet die datengetriebene Wirtschaft 2018?
Künst­li­che In­tel­li­genz (KI) war ver­gan­ge­nes Jahr ei­nes der Trend­the­men. Und auch in den Ex­per­ten­prog­no­sen für 2018 ist sie ein fes­ter Be­stand­teil. Die Fra­ge ist al­so we­ni­ger, ob, son­dern wie KI und da­mit ver­bun­de­ne Tech­no­lo­gi­en wie Ma­chi­ne Lear­ning in den nächs­ten Mo­na­ten die Un­ter­neh­mens­welt ve­r­än­dern wer­den.
Weiterlesen