Top 100 U.S. Liberal Arts College Selects Xiotech Storage System and Data Replication Software for Its Production and Remote Data Centers
Albion College Selects Magnitude 3D 4000 Storage Systems with TimeScale GeoRep to Manage Its Critical Data
Eden Prairie, MN

, (PresseBox) -
Xiotech Corporation today announced that Albion College chose two Xiotech® Magnitude 3D® 4000 storage area network (SAN) systems, along with TimeScale® GeoRep software. The new storage systems and software will support the college s move to a virtualized server environment, while ensuring student, faculty and administrative files are available and protected from natural and unnatural events.

Founded in 1835, Albion, Mich.-based Albion College is a private, four-year, liberal arts college. The school provides educational and research services to more than 1,900 students and 135 full-time faculty members.

To continue offering its students and faculty members new and improved technology services, Albion College needed to upgrade its existing IT infrastructure and stop server sprawl. From 1998 to 2008 the college added 50 physical servers to its data center, bringing the total number of servers to 70. Management of all these servers and their direct-attached storage was taking a tremendous amount of staff time.

"Instead of spending time planning and researching new technologies for our students and staff, our IT department found themselves working primarily on keeping the current IT infrastructure running," said Kurt Ashley, director of Systems & Networking at Albion College. "To break away from this cycle, we needed to reduce our server footprint using virtualization, and Xiotech s Magnitude 3D 4000 systems were key to this transition."

Albion College plans to eliminate more than 75 percent of its servers, reducing the total number to 15, and will use one of the Magnitude 3D 4000 systems to support half of those. The storage system will initially have 15 terabytes of capacity divided between two storage tiers: 300 gigabyte Enterprise Fibre Channel drives and 750 gigabyte Serial ATA (SATA) drives. IT staff at Albion College will be able to move data easily among the tiers to meet the organization s needs, without any application or system downtime.

To ensure its faculty and student data is protected from natural and unnatural disasters, Albion College is creating a remote data center, which will be supported by the second Magnitude 3D 4000 system and another 6 terabytes of SATA disks. The college will replicate data between the main and remote data centers asynchronous throughout the day using Xiotech s TimeScale GeoRep software.

"TimeScale GeoRep will allow us to automatically replicate our data across any distance, migrate storage volumes between data centers with zero downtime, and automate our data recovery process," said Scott Stephen, chief information officer at Albion College. "We expect to reduce our server recovery time objective from 24 hours to less than four hours with the replication solution."

Albion College will go live with the Magnitude 3D 4000 storage systems Aug. 20, 2008. Combined, the two systems will have a storage capacity of 21 terabytes.

"As we ve expanded our storage line from the Magnitude 3D family to Emprise(TM) solutions, we ve received hundreds of inquires from IT shops looking to find flexible, reliable storage solutions that will help them meet their business objectives," said Mike Hoch, vice president of Marketing at Xiotech. "We find that our customers have a great sense of how they will develop their storage infrastructures down the road, and are viewing Xiotech as the company who has the storage and data protection solutions to meet their needs today and in the future."
Xiotech Corporate Headquarters
Xiotech Corporation, an innovator in data storage and protection solutions, is delivering the new foundation of storage with unprecedented reliability, performance and scalability. Xiotech s Emprise(TM) storage family is built on patented Intelligent Storage Element (ISE) technology, which virtually eliminates drive-related service events, while delivering industry-leading performance. Both the Emprise and Magnitude ® families of storage systems are feature rich, with optimal storage virtualization, Fibre Channel and iSCSI connectivity, grow-as-you-go scalability, unmatched ease of use, and integrated customization via Web services. Additionally, Xiotech s TimeScale ® line offers comprehensive, modular solutions for data protection and availability.

Xiotech is based in Eden Prairie, Minn., and maintains major facilities in Colorado Springs, Colo., and Hyderabad, India.
Press releases you might also be interested in
Weitere Informationen zum Thema "Hardware":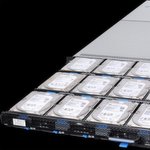 QCT-Server für Software Defined Storage
Quan­ta Cloud Tech­no­lo­gy (QCT), stellt mit "Quan­ta Grid D52T-1UL­H" ei­nen Dual-So­cket Ser­ver für ei­ne Höhen­ein­heit vor. Der Rech­ner soll sich ins­be­son­de­re für Soft­wa­re De­fi­ned Sto­ra­ge (SDS) eig­nen. Das hier­ar­chisch auf­ge­bau­te Sys­tem di­ent als Ba­sis-In­fra­struk­tur für gän­gi­ge Sto­ra­ge-Soft­wa­re wie "Mi­cro­soft Sto­ra­ge Spaces Di­rec­t" (S2D), "VM­wa­re vSan", "Ha­do­op" und "Ce­ph".
Weiterlesen