Xeikon presents its ThermoFlexX product family at Labelexpo Europe 2013
Xeikon further confirms their commitment to the Flexo Industry
Eede, The Netherlands

, (PresseBox) -
At Labelexpo Europe 2013, Xeikon extends its range of Flexo Imagers for Flexographic and Letterpress plates with the ThermoFlexX 80. This large format Flexo Imager is capable of exposing plates up to 1270 x 2032 mm, covering the size requirements for corrugated printers and trade shops or service bureaus. The ThermoFlexX 80 offers outstanding quality and unprecedented productivity, along with a unique loading and unloading concept.

"With almost 20 years of experience in Computer-to-Plate development and manufacturing, Xeikon Prepress has a reputation of being a leading technology innovator in the printing industry," says Christophe Lievens, Director of Sales and Marketing Xeikon Prepress. "With our ThermoFlexX products we emphasize this reputation by producing imagers, for the flexographic and letterpress industry, with unique and innovative features."

Flexibility in resolution

"By offering a wide range of output resolutions, we strengthen our open standard philosophy. Offering a seamless integration with any workflow on the market lowers the threshold to make the step towards digital flexo platemaking. Our ThermoFlexX engines can image plates at 2400, 2540, 4000, 4800 and 5080 dpi. With our highest resolution of 5080 dpi, the product is technology-ready to raise the quality level of output to the newest industry standards," adds Doug Mawdsley, Product Manager Flexo Prepress.

Unique range of benefits

The ThermoFlexX solution comes with a range of unique benefits. Advanced clamping design allows plates to be mounted easily on to the drum, while a uniquely designed vacuum slider offers the flexibility to use plates of any width. This is highly beneficial to operators as there is no need to cut the plates to fit a dedicated vacuum zone thus allowing the use of cut-off scraps. The ThermoFlexX solution also features ergonomic plate mounting and its hybrid drum offers flexibility of holding plates in place either by vacuum or by magnetics.

Worldwide network for local service and support

Xeikon's worldwide service network will provide local support for the full range of ThermoFlexX products. Sales of the product is conducted via Xeikon's authorized dealer network.

Come and see the new ThermoFlexX 80 at Label Expo 2013

Visitors to the Xeikon booth at Labelexpo Europe 2013 will have the opportunity to see the new ThermoFlexX 80 solution first hand. ThermoFlexX will exhibit in Hall 9, Booth H30.
Xeikon International BV
Xeikon NV (XEI: AEX) is an innovator in digital printing technology. The company designs, develops and delivers web-fed digital color presses for labels and packaging applications, document printing, as well as commercial printing. These presses utilize LED-array-based dry toner electrophotography, open workflow software and application-specific toners.

As an OEM supplier, Xeikon designs and produces plate makers for newspaper offset printing applications. Xeikon also manufactures basysPrint computer-to-plate (CtP) solutions for the commercial printing market. These proven CtP systems combine the latest exposure techniques with cost-efficient UV plate technology, high imaging quality and flexibility.

For the flexographic market, Xeikon offers digital platemaking systems under the ThermoFlexX brand name.

ThermoFlexX systems provide high resolution plate exposure including screening, color management, as well as workflow management.

All the Xeikon solutions are designed with the overarching principles of profitability, quality, flexibility and sustainability in mind. With these guiding principles and a deep, intimate knowledge of its customers, Xeikon continues to be one of the industry's leading innovators of products and solutions.

For more information, visit www.xeikon.com.

Press releases you might also be interested in
Weitere Informationen zum Thema "Hardware":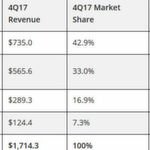 Umsatz konvergenter Systeme legt weltweit zu
Nach An­ga­ben der In­ter­na­tio­nal Da­ta Cor­po­ra­ti­on (IDC) ver­mel­de­te der "World­wi­de Quar­t­er­ly Con­ver­ged Sys­tems Tra­cker" für das vier­te Quar­tal 2017 ei­nen welt­wei­ten An­s­tieg der Um­sät­ze im Be­reich des kon­ver­gen­ten System­mark­tes um 9,1 Pro­zent. Hy­per­kon­ver­gen­te Sys­te­me out­per­for­men, an­de­re Teil­seg­men­te er­leb­ten Rück­gän­ge.
Weiterlesen