Xeikon further expands its label substrate range to include PE
Xeikon labels cover the show floor at Labelexpo Europe 2011
Eede, The Netherlands

, (PresseBox) -
Xeikon will showcase its latest additions to its ever-expanding family of label substrates for the Xeikon 3000 Series at Labelexpo Europe 2011, taking place at the Brussels Expo, Brussels, Belgium from 28 September to 1 October. Visitors to the Xeikon stand will have the opportunity to see, for the first time, live demonstrations of the Xeikon 3500 printing on Cast PE, supplied by MACtac. The press will also print labels on the first bio-degradable material from Fasson. In addition, Xeikon printed labels will be on display across the show floor on stands of Xeikon's many other partners.

As more and more label printers turn to digital print technology for their production, there is a growing demand for substrate flexibility in the digital arena. Xeikon is committed to meet this demand and since the introduction of the QA-I toner at IPEX 2010, its toner R&D group has worked closely with its partners to continuously expand its range of substrates for the Xeikon 3000 Series of digital label presses. At Labelexpo Europe 2011, Xeikon will launch its latest addition to the substrate family: Cast PE labels, direct thermal labels and biodegradable materials.

"To date, the market perceived that it was impossible to use dry toner technology to print on PE," says Filip Weymans, Business Development Manager, Labels and Packaging, Xeikon. "Visitors to our stand will find out for themselves that it is now 100% achievable and with the highest levels of print quality. A clear example what advantage dedicated toner development brings. During the show, we will print live on to Cast PE material using the Xeikon 3500, so visitors can see the quality for themselves. The material is one of MACtac's recently MACtac certified label materials."

Biodegradable labels fit well with Xeikon's green credentials With the drive to be more environmentally friendly, there is an increasing demand for more eco-friendly labels. To meet this demand, Fasson, a market leading brand in materials for self-adhesive labels, has just released its first biodegradable and compostable materials: both the facestock and glue are certified compostable. The new label material fits with Xeikon's commitment to a greener future. The QA-I toner system used on all the Xeikon 3000 Series is a dry toner based technology. Because there are no solvents or cleaning products used during printing, there are no VOC (Volatile Organic Compound) emissions evaporating into the atmosphere. This offers a healthy environment for print operators and a lower impact on greenhouse effects.

The dry toner technology is also 100% compatible with existing deinking and recycling processes. Furthermore, the toner features a new polyester resin system with an environmental friendly catalyst which includes no organic tin compounds.

The Xeikon 3050 at the Package Printing zone will illustrate the versatility of the Xeikon technology. Live demonstrations on the press will run simultaneous with business presentation.

4 Different business opportunities will be addressed in great details (detailed schematic available at http://www.labelexpo-europe.com/visitors/package-printing-zone) :

1. Heat transfer printing - providing a solution to today's trends 2. Wet-glue and self adhesive labels in the wine and beverage market 3. The potential for digital printing in the folding carton market 4. From label and package to promotion - POP/POS

As well as using MACtac and Fasson materials to create labels live on the Xeikon stand, Xeikon labels will be on show across the floor on the stands of Xeikon's many other partners. These include:

Francini (hall 6 - G140): specializes in the production of high-end labels for the wine industry. At the show they will embellage Xeikon printed labels with screen printing to highlight specific areas or create a tactile feeling, hot foil and die-cutting.

GM (hall 9 - H52): a versatile finishing partner who will demonstrate its range of converting equipment on Xeikon printed material. This will included laser diecutting, rotary hot foiling, etc.

ALS Engineering (hall 9 - G38): A unique solution for the pharmaceutical industry will be demonstrated in conjunction with Baumer, Herma and Xeikon at their booth. The ALS laser diecutter will laser diecut the labels and apply a spot metallic color. Xdot, the new digital Braille printing system of Baumer, will then apply Braille on top of the label. Herma has provided Herma Extracoat 242, a label laminate that is suited for pharmaceutical application.

Baumer (hall 12 - U80): Demonstrating their new Xdot Braille printing system incombination with Xeikon printed material.. Xeikon will be exhibiting at Labelexpo Europe 2011 in Hall 9, Stand 45. The company will showcase an impressive line-up of five solutions dedicated to the digital label printing market, including digital label presses, converting lines and integrated software. On the stand there will be live demonstrations of a wide web label solution with its Xeikon 3500, the most productive digital label press available on the market. The show will also mark the launch of the DCoat500, which will be showcased in "World Premiere" as the in-line finishing solution of the Xeikon 3500.
Xeikon International BV
A pioneer in digital printing, Xeikon designs, develops and delivers high-end digital colour printing systems for the industrial, document and commercial printing market segments. These systems are composed of advanced web-fed printing engines using LED-array-based, dry toner electrophotography, open workflow software, exclusive toner and other consumables. Xeikon's production and R&D operations are based in Belgium and its solutions are distributed and supported through a worldwide sales and service network. Xeikon is a division of Punch Graphix. For more information, visit www.xeikon.com.
Press releases you might also be interested in
Weitere Informationen zum Thema "Hardware":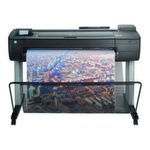 Markt für Großformat-Drucker dümpelt so dahin
Die Nach­fra­ge ist da, aber die Um­sät­ze stag­nie­ren. Die Markt­for­scher von IDC er­ken­nen für die An­bie­ter kei­ne Hoff­nungs­zei­chen auf bes­se­re Ge­schäf­te. An­wen­der aber kön­nen auf güns­ti­ge­re Prei­se set­zen.
Weiterlesen