New version of QA-I toner in spot red and orange at Labelexpo Europe 2011
Xeikon comes out on top of light fastness benching exercise
Eede, The Netherlands

, (PresseBox) -
Xeikon will launch a new version of its QA-I toner in spot red and orange at Labelexpo Europe 2011, which takes place at the Brussels Expo, Brussels, Belgium from 28 September to 1 October. The new spot colors feature a vastly improved light fastness up to a level of 6 on the blue wool scale. In addition, both colors now meet FDA food safety requirements for both direct and indirect dry food contact. Visitors to the Xeikon stand will also have the opportunity to see for themselves the results of a recent light fastness benchmarking test, which confirms Xeikon as the best performing digital printing technology on the market.

When Xeikon first released the QA-I toner at IPEX 2010, it raised the bar of digital color print toners to new heights. Uniquely developed for the label and packaging market, the new toner featured major advances in color gamut, fast lightness and food safety. It was released in all the standard CMYK process colors along with a series of off-the-shelf spot colors (orange, green, red, blue, extra magenta, clear and white). At the time, however, the performance of spot orange and red lagged slightly behind the rest of the family in both light fastness and food safety. Since that initial release, the toner R&D group at Xeikon has continued to optimize the pigments used in the toner and have now lifted both colors up to be in line with Xeikon's traditionally high standards.

"Red and orange are both used a lot in the chemical industry," says Filip Weymans, Marketing & Business Development Manager, Labels & Packaging at Xeikon. "For example: Warning signs placed on the outside of large drums carrying potentially dangerous contents typically use these two colors and they are often exposed to UV light for long periods of time. With the light fastness of both colors now lifted to 6 on the blue wool scale, labels created with QA-I toner can easier meet the demanding requirements of this market."

During the same period, the R&D team also focused heavily on improving the food safety performance of the two QA-I spot colors. When first released, they met the FDA requirements for indirect food contact. By optimizing the color pigments, they now meet FDA requirement for both indirect and direct dry food contact.

"The raised performance of both light fastness and food safety of the two spot colors now enables label printers to broaden the range of applications they can offer," adds Weymans.

The new release of QA-I toner in both spot red and orange will start shipping as from Labelexpo Europe 2011 (i.e. from 1 September 2011).

Xeikon comes out on top of light fastness benchmarking exercise

Visitors to Labelexpo Europe 2011 will also be able to observe - first hand - the results of a benchmarking exercise that was conducted recently between different digital printing technologies. During the exercise, which was carried out by an independent printer, three identical labels were printed on the same material using three different technologies: UV inkjet, liquid toner and Xeikon's dry QA-I toner. Each label, lying side-by-side, was exposed to 800 hours of sunshine during the 4 months of April to August this year.

The deltaE, which is the unit of measure of color difference, was measured for seven different colors of each label. At the end of the 800 hours, the deltaE of the Xeikon printed sample was significantly less across all seven colors. The results clearly reaffirmed Xeikon's high standard of quality in light fastness with an average deltaE of 7.6. This compared to 12.2 for inkjet-printed label and 37.3 for the alternative liquid toner technology.

Xeikon will exhibit at Labelexpo Europe 2011 in Hall 9, Stand 45. The company will showcase an impressive line-up of five solutions dedicated to the digital label printing market, including digital label presses, converting lines and integrated software. On the stand there will be live demonstrations of a wide web label solution with its Xeikon 3500, the most productive digital label press available on the market. The show will also mark the launch of the DCoat500, which will be showcased in "World Premiere" as the in-line finishing solution of the Xeikon 3500.

For more information about Xeikon products and services, visit www.Xeikon.com
Xeikon International BV
A pioneer in digital printing, Xeikon designs, develops and delivers high-end digital colour printing systems for the industrial, document and commercial printing market segments. These systems are composed of advanced web-fed printing engines using LED-array-based, dry toner electrophotography, open workflow software, exclusive toner and other consumables. Xeikon's production and R&D operations are based in Belgium and its solutions are distributed and supported through a worldwide sales and service network. Xeikon is a division of Punch Graphix. For more information, visit www.xeikon.com.
Press releases you might also be interested in
Weitere Informationen zum Thema "Hardware":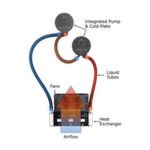 Asetek und Intel kühlen gemeinsam
Ase­tek ar­bei­tet ab so­fort mit In­tel zu­sam­men, um Re­chen­zen­t­ren und Ser­ver mit Was­ser zu küh­len. Dem­nächst soll die Vor­stel­lung ei­nes ers­ten ge­mein­sa­men Pro­duk­tes fol­gen.
Weiterlesen