Brand protection opens up new business opportunities for label printers
Xeikon launches white paper on digital brand protection printing at Labelexpo Europe 2011
Eede, The Netherlands

, (PresseBox) -
Xeikon will release a new white paper on brand protection printing at Labelexpo Europe 2011, taking place at the Brussels Expo, Brussels, Belgium from 28 September to 1 October. The 36-page white paper offers a comprehensive overview of the anti-counterfeiting techniques that can be combined with digital printing technology to combat the ever-increasing rise in counterfeit goods across the globe.

Hundreds of brand protection and security technologies are available on the market today, yet only a few printers and converters are really making any use of them. The aim of the new white paper is to educate the market on the many security capabilities that are now available through digital printing, and to show the need for all players in the packaging supply chain to work together to build an integrated brand protection solution.


"Working together is the key to brand protection", says Filip Weymans, Marketing & Business Development Manager, Labels & Packaging at Xeikon. "To really stay ahead, brand owners, packaging converters and printers need to work together right up front at the very beginning of the packaging process to "design in" brand protection. By combining the best available anti-counterfeiting techniques with the latest advances in digital printing, the most effective overall brand protection solution can be developed. There are real business opportunities for label printers to be proactive with their clients in suggesting brand protection solutions and to develop unique security applications."

Next evolution of counterfeit products present real threat to society as a whole

Globalization has fueled the market for pirated copies of branded goods ranging from designer clothes and handbags, to watches and sport shoes. Global lost revenues through counterfeiting are said to be close to $1.5 billion a year, or about 7-8% of world trade. While this is of major impact on the bottom line - and on brand value - the next evolution of fake products that is coming on the market presents a much greater threat: fake medicine, fake vehicle spare parts and fake pesticides. Literally hundreds of people die, suffer health problems or are injured each year through ineffective or faulty counterfeited goods such as medicines, electrical products, and household chemicals and cosmetics that are harmful to the skin and body. Fake automotive spare parts such as brake linings can be lethal if they fail at high speed.

Printing and packaging in the front line against counterfeiting

In the past, the primary role of packaging has been to protect and - when combined with printing - to communicate the brand message. Today, packaging and printing can also be a strong weapon to combat the counterfeiter and protect the brand.

The Xeikon Brand Protection white paper offers an overview of the latest anti-counterfeiting techniques - both overt (visible) and covert (hidden) - which can be applied using Xeikon's digital printing technology. The 1200dpi resolution (4 bit per spot) delivered by the Xeikon presses enables the printing of microtext, guilloches and cryptoglyph patterns. Many of the latest security substrates which are made with fluorescent and micro-printed fibers, customized watermarks, embedded threads, holograms or foils can all be perfectly printed on Xeikon presses.

The Xeikon toner also offers a multitude of brand protection features. Invisible text, codes or shapes, which can only be seen under specific UV light source or black light, can be incorporated into labels or packaging. Proprietary brand colors created from a specific PMS color toner makes fraud a lot more difficult.

Other techniques covered in the paper include adding taggants (physical or chemical markers) to either the substrate of toner itself, or hiding covert images into the artwork - which can only become visible by using specific verification keys.

Come & talk brand protection at Labelexpo Europe 2011

Copies of the Brand Protection white paper will be available on the Xeikon booth at Labelexpo Europe 2011. Members of the Xeikon team will be available to answers any questions you may have. Visitors to the booth can also take a close look at samples of a Medikon box which incorporates many of the security features covered in the white paper.

Labelexpo Europe 2011 takes place at the Brussels Expo, Brussels, Belgium from 28 September to 1 October. Xeikon will be exhibiting in Hall 9, stand 45.

For more information about Xeikon products and services, visit www.Xeikon.com
Xeikon International BV
A pioneer in digital printing, Xeikon designs, develops and delivers high-end digital colour printing systems for the industrial, document and commercial printing market segments. These systems are composed of advanced web-fed printing engines using LED-array-based, dry toner electrophotography, open workflow software, exclusive toner and other consumables. Xeikon's production and R&D operations are based in Belgium and its solutions are distributed and supported through a worldwide sales and service network. Xeikon is a division of Punch Graphix. For more information, visit www.xeikon.com.
Press releases you might also be interested in
Weitere Informationen zum Thema "Hardware":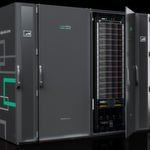 Ein mikro-modulares Datacenter von Rittal, ABB und HPE
ABB, Hew­lett-Pa­c­kard En­ter­pri­se (HPE) und Rit­tal wer­den auf der Han­no­ver Mes­se das "Se­cu­re Ed­ge Da­ta­cen­ter" (SEDC) für in­du­s­tri­el­le Um­ge­bun­gen und Te­le­kom­mu­ni­ka­ti­on vor­s­tel­len. Da­mit kön­nen Un­ter­neh­men ih­re leis­tungs­star­ken IT-Sys­te­me in un­mit­tel­ba­re Nähe zu ih­ren Ma­schi­nen und An­la­gen be­t­rei­ben, um ge­rin­ge­re La­tenz­zei­ten so­wie si­che­re und zu­ver­läs­si­ge di­gi­ta­le Pro­zes­se zu er­mög­li­chen.
Weiterlesen