The press service for journalists and influencers in the technological sector
Wittmann Battenfeld GmbH

BoxId: 101499 – BATTENFELD Kunststoffmaschinen further expanding its performance range
Press release BoxID: 101499 (Wittmann Battenfeld GmbH)
Wittmann Battenfeld GmbH
Wiener Neustädter Str. 81
2542 Kottingbrunn
http://www.battenfeld-imt.com
Contact person
+43-2252-404-0
Recommend BATTENFELD Kunststoffmaschinen further expanding its performance range press release
QrCode
What its a QR code?
Three steps: Scanning of a QR code: Find your way to a press release without typing. Use the QR code on the print version of a press release to get redirected to the corresponding page on PresseBox.
How does scanning a QR code work? Just follow these simple steps.
Everything you need is an internet-enabled mobile phone or smartphone with a built-in camera and a QR code reading software.
QR stands for Quick Response - with one step you can quickly reach a website. QR codes work like bar codes, which you can find on your milk carton, for example. A software decrypts the QR code and directs you to a web page - so you do not even need to know the web address to reach it.
Download and print your digital press kit now
Please send the following information to my email address:
*) Please confirm your email address to get daily information about new releases with PresseMail.
BATTENFELD Kunststoffmaschinen further expanding its performance range
High-precision machines for highly efficient processes
You may also be interested in
Additional information on the topic of "Hardware"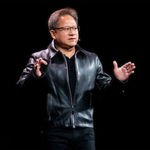 GPUs überflügeln CPUs und sind die Basis für KI-Anwendungen jeder Art
Der Besuch einer Nvidia-Konferenz hat immer auch etwas Unwirkliches. Das liegt einerseits daran, dass mithilfe von Graphics Processing Units (GPUs) Computing-Geschwindigkeiten erreicht werden, die sich nicht mehr begreifen, nur noch beschreiben lassen. Andererseits wird diese Performance für Anwendungen im High Performance Computing (HPC) und Künstlicher Intelligenz (KI) benötigt. Und damit entsteht die Zukunft.
Read more

Company address
Wittmann Battenfeld GmbH

Wiener Neustädter Str. 81

A

-

2542

Kottingbrunn