Effective and affordable climate protection with natural gas
WINGAS presentation at the energy trade fair "E-world 2014" in Essen with the slogan "100 % Natural Gas"
Essen

, (PresseBox) -
The importance of natural gas is growing worldwide; according to the latest forecasts, its share in the energy mix will rise to 25 percent by 2035. And for good reasons: natural gas has a high efficiency, is in plentiful supply and has the lowest emissions out of all the traditional energy carriers. "Those who are serious about climate protection cannot afford to sideline natural gas - this applies to the heating market, the electricity market and mobility in equal measure," Ludwig Möhring, Managing Director for Sales at WINGAS GmbH, said at the energy trade fair "E-world energy & water 2014" in Essen. Germany had distanced itself from this development in the course of the energy transition, he said. "At the moment climate protection is not visible as the core objective of the energy transition. Despite the sharp increase in the use of renewable energies, CO2 emissions have risen considerably - which is a result of the general conditions that favor brown and hard coal." Hence, the fact that the new German government was now tackling this issue with the energy reform was to be welcomed, he said. "However, focusing on reforming the EEG (Renewable Energies Act) carries the risk that reform efforts will concentrate on the symptoms and lose sight of the government's main objective, a 40 % reduction in CO2 by 2020," Möhring continued.

WINGAS supports the government's approach of making costs the yardstick within the energy transition initially. "If we focus on the CO2 abatement costs, and thus the financial viability of the energy transition, that is an important step in gaining public support for the energy transition," the managing director of the WINGAS Group underlined. So far the heating market has played a secondary role in the energy transition even though this market accounts for the largest share of energy consumption in Germany, at 40 percent, and is responsible for a third of German CO2 emissions. "Around 75 percent of heating systems in the 38.4 million apartments in Germany do not have modern heating technology," Ludwig Möhring explained. "And yet new and more efficient heating systems could lead to a fast and sharp reduction in CO2 emissions - also at affordable prices compared to other measures. For example, the costs of purchasing a new natural gas heating boiler are much lower than with insulation glazing."

Reliable, comfortable and affordable natural gas technology already makes a crucial contribution to modernizing the heating stock without any negative impact on living conditions. "Both in the existing building stock and in the new building segment, the legal requirements for energy can be met in a particularly cost-efficient manner with natural gas condensing boiler technology and solar thermal power, or the new natural gas technologies, such as heating that also generates electricity, or heat pumps," Möhring outlined. "This is something that apartment residents and landlords have long since recognized - one in two apartments is now heated with natural gas, and three out of four new heating systems are natural gas powered - a very positive trend that shows that consumers are becoming increasingly aware of the advantages of natural gas."

Financial feasibility of combined heat and power must be maintained

The WINGAS managing director is more critical of the part of the energy reform pertaining to combined heat and power. "The paper by German federal energy minister Sigmar Gabriel, which envisages the introduction of a levy within the Renewable Energies Act (EEG) for larger CHP plants, endangers the financial viability of combined heat and power and poses an obstacle to the further expansion of this technology. This is in clear conflict with the coalition agreement: "Hence, this will have to be reviewed on the basis of the coalition agreement, which makes a clear commitment to the CHP expansion target of a 25% share in electricity generation in 2020," Möhring said. Hence, the WINGAS managing director called on policymakers to not just guarantee the financial feasibility of highly efficient combined heat and power plants, but to actively promote them. "This applies especially to larger CHP plants in apartment blocks; not only do they reduce CO2, save energy and make electricity generation in Germany more flexible and decentral with innovative solutions; they also make affordable climate protection possible. By introducing an EEG-levy, these CHP plants will effectively be driven off the market - that cannot be the objective of reforming the Renewable Energies Act."
WINGAS GmbH & Co. KG
WINGAS is one of the largest suppliers of natural gas in Germany. The energy company is active in natural gas trading across Europe: in Belgium, Denmark, France, the UK, Austria, the Netherlands and the Czech Republic. Its customers include municipal utilities, regional gas suppliers, industrial firms and power plants.

More energy - together. www.wingas.com
Press releases you might also be interested in
Weitere Informationen zum Thema "Energie- / Umwelttechnik":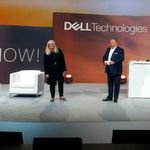 Digitalisierung erfordert nahtlose Kommunikation
Dells Ta­ges­ver­an­stal­tung The Next Now! In Mün­chen woll­te Hil­fe­stel­lung leis­ten auf dem Weg zur Di­gi­ta­li­sie­rung der Un­ter­neh­men in Deut­sch­land. Wel­che St­ra­te­gi­en und Rah­men­be­din­gun­gen er­wei­sen sich als güns­tig, was soll ver­mie­den wer­den?
Weiterlesen