WeeWorld´s Avatars Now Available as Vringo Ringtones
Alliance Will Enable Vringo Users to Share Personalized "WeeMees"
Paris

, (PresseBox) -
Vringo, the pioneer in video ringtone sharing, and WeeWorld(TM), home of the popular WeeMee social network, today announced an alliance to fully integrate WeeWorld avatars into Vringo´s video ringtone service. The announcement was made at LeWeb3 2007.

WeeWorld is a rapidly growing and trusted online community focused on self-expression and communication for young adults. Millions of die-hard fans use WeeMees as their personal avatar or icon to express what they are doing, thinking and feeling. On WeeWorld, users create their WeeMees, decorate their own personal space, play games and hang out with other WeeMees.

Using Vringo, mobile phone users worldwide can now seamlessly load their WeeMee avatars onto their mobile handsets for free. When a call is placed, an animated WeeMee appears on the recipient´s phone screen as a video ringtone, or Vringo, graphically identifying the caller. Users will also be able to personalize their mobile handsets by selecting WeeMee avatars as wallpaper that appears on handset screens when idle.

"WeeMees are all about unique self expression," said Celia Francis, CEO of WeeWorld. "We developed our API to make it really easy for Web and application developers to bring that self expression into their products. Through our partnership with Vringo, WeeMee users will be able to share the WeeMee one-of-kind experience whenever they call another Vringo user. We´re excited to be able to offer our subscribers another way to integrate their WeeMee personality into their mobile lives."

With the WeeWorld-Vringo alliance, users can now simply and easily deploy their WeeMees on a wide variety of mobile handsets, including devices made by Nokia, Motorola, Sony Ericsson, Samsung and others (see full list of Vringo-compliant handsets). This means that the WeeMee avatars users post as digital IDs on their favorite social media Web sites and instant messaging services can now be shared on yet another "screen" -- the highly portable mobile-phone screen.

"Through this agreement with WeeWorld, we´re able to expand our reach to millions of WeeMee creators and give them an opportunity to ´Vringo´ their unique personalities to others," said Andrew Perlman, general manager - Vringo America. "Vringo and WeeWorld make great partners because of our common goal of enabling and sharing personal expression."

WeeMees can be updated at any time by changing clothes and accessories, each time sharing a little piece of the user´s individuality -- no matter where the WeeMee is online.

WeeWorld joins a growing list of content providers now partnering with Vringo, including Discovery Channel and Universal Music Group.

See a 30-second video demo of WeeWorld "WeeMee" avatars used as Vringo video ringtones.

About Vringo

Vringo is creating the world´s first video ringtone sharing community. The company is making Personalization 2.0 a reality by enabling users to experience rich media ringtones on a wide variety of mobile devices and for the first time to share that media with others within a community. Vringo is backed by Warburg Pincus and by private investors. More information can be found at www.vringo.com.
WeeWorld Ltd.
WeeWorld is the home of the hugely popular WeeMee social network. With over 19 million WeeMees worldwide, WeeMees are the world´s most widely used, recognized and beloved avatar. WeeWorld is the trusted site for young adults to communicate and express themselves in a totally unique way using a beautifully designed, easy-to-use interface. WeeWorld has offices in Boston, New York, San Francisco, London, and Glasgow, and is funded by two of the world´s leading investors, Accel Partners (www.accel.com) and Benchmark Capital (www.benchmark.com).
Press releases you might also be interested in
Weitere Informationen zum Thema "Consumer-Electronics":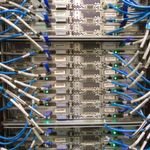 Weniger Server verkauft und dennoch mehr Umsatz
Die welt­wei­ten Ser­ver-Aus­lie­fe­run­gen sind den Markt­for­schern von Gart­ner zu­fol­ge im vier­ten Quar­tal 2017 um sat­te 24,7 Pro­zent ge­s­tie­gen. In EMEA gab es ein leich­tes Um­satz­wachs­tum, wo­bei die Stück­zah­len zu­rück­gin­gen.
Weiterlesen