Onslaught of fake Microsoft patch spam
Köln

, (PresseBox) -
Websense Security Labs ThreatSeeker Network has discovered a substantial number of spam messages utilizing a reliable social engineering trick that lures users to download a Microsoft critical security update.

The message uses an open redirect at the legitimate shopping site shopping.***.com; the redirect forwards users to a malicious URL offering to download a malicious executable. The malicious hostname is a lengthy one embedding 62 characters, and uses the sub-domain update.microsoft.com. Users who open this file will have their desktop infected with a Backdoor.

Here is what the redirect looks like inside the spam messages: hXXp://shopping.***.com/go.nhn?url=hXXp%3A%2F%2Fupdate%2Emicrosoft%2Ecom%2E<removed>%2Enet

An interesting trait of this particular attack is that the malicious top level domain is pointing to the government site of the United States Secret Service - The Electronic Crimes Tasks Forces Web site in an apparent attempt to work around IP reputation-based systems.

Websense Messaging and Websense Web Security customers are protected against this attack.

To view the details of this alert Click here: <http://securitylabs.websense.com/content/Alerts/3122.aspx>
Websense Deutschland GmbH
Websense, Inc. (NASDAQ: WBSN), a global leader in integrated Web, messaging and data protection technologies, provides Essential Information Protection(TM) for more than 42 million employees at more than 50,000 organizations worldwide. Distributed through its global network of channel partners, Websense software and hosted security solutions help organizations block malicious code, prevent the loss of confidential information and enforce Internet use and security policies. For more information, visit www.websense.com

Websense and SurfControl are registered trademarks of Websense, Inc. in the United States and certain international markets. Websense has numerous other registered and unregistered trademarks in the United States and internationally. All other trademarks are the property of their respective owners.
Press releases you might also be interested in
Weitere Informationen zum Thema "Security":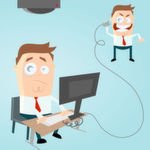 Was Arbeitgeber wissen dürfen und was nicht
Da­ten­schutz gilt nicht nur zwi­schen Un­ter­neh­men und ih­ren Kun­den, son­dern auch inn­er­halb der Fir­ma. Die Da­ten der Mit­ar­bei­ter dür­fen nur in ei­nem be­stimm­ten Rah­men ge­nutzt und aus­ge­wer­tet wer­den. Die­sen Rah­men kor­rekt zu be­stim­men, fällt aber vie­len Un­ter­neh­men schwer, Über­t­re­tun­gen des nach dem Da­ten­schutz­recht Zu­läs­si­gen sind an der Ta­ges­ord­nung.
Weiterlesen