Travel websites need to embrace web 2.0 if they are to improve online usability
Webcredible report highlights that UK travel agent websites are offering better levels of online usability than airline carriers but improvements are needed across the travel industry
London

, (PresseBox) -
Key Findings:
- On average airline carriers fared significantly worse than online travel agents - Carriers scored 48% usability compared with 55% for agents
- Opodo was rated the most usable online travel website scoring 67%, British Airways led the way for airline carriers achieving 65%
- Ryanair and Monarch came bottom of the report with poor transparency of pricing, a significant issue which urgently needs addressing
- Both carriers and agents are neglecting the potential of web 2.0 technology and failing to use even the most basic sharing functions

A usability study into the online travel industry by Webcredible has discovered a mixed level of usability performance from some of the UK s most popular travel brands. Whilst some very good websites exist with high levels of usability, the research reveals that others are lacking in some of the most basic customer usability functions. The report conducted by online usability and accessibility experts Webcredible examined the websites of 20 of the UK s online travel agents and airline carriers.

Webcredible found that only three companies Opodo, British Airways, and Travelbag scored over 60% when measured against a set of specific criteria. Many of the top internet brands performed very poorly only scoring around 50%.

Each of the websites within the report were evaluated against 20 best practice guidelines and assigned a score of zero to five for each guideline. This system was developed by Webcredible specifically for travel websites.

The travel industry average usability rating was 51.5% which clearly identifies scope for travel sites to improve on their online offering in order to meet the demands of a European marketplace estimated to be worth €49.4 billion. Travel agent sites, Opodo and Travelbag, were found to offer users the best online experience, scoring 67 and 62 out of a potential 100 respectively. While airline carrier sites Monarch and Ryanair scored lowest at 38 and 40.

Interestingly, there was a significant difference between the performance of the travel agents who scored 55% and the airline carriers who scored 48%. Carriers frequently let themselves down by failing to address areas such as poor transparency of pricing.

Ismail Ismail, director at Webcredible said, "Users need to have clear and accurate pricing displayed through-out their journey through a site. It s not acceptable to add hidden charges at the very end of a transaction process - this is something which a number of airline carriers are guilty of."

Ismail continues, "Many of the sites also suffered with inaccessible user information. For example, with the growing number of airlines flying to new and mysterious-sounding airports many of the sites aren t being upfront about where they are based and how users will get there. 15 out of 20 travel sites scored 0 out of 5 on this guideline."

A failure to embrace Web 2.0 technologies was also an issue for many of the sites. They were not able to provide their users with such rudimentary sharing tool features as options to email a friend.

Ismail concludes, "While the transparency of pricing is a long standing concern of the Office of Fair Trading it s particularly surprising that many of the sites tested have not embraced the spirit of Web 2.0, considering its growth in recent years. Booking a holiday is often a social experience and the ability to interact and share the booking process with friends and family is essential. Given the sector s huge growth and potential, top travel sites must leverage every advantage available to them to be more effective in this highly competitive marketplace. Increasing the usability of a travel website will enhance the success users have in finding and booking flights - it s as simple as that. Better usability will also lead to a rise in loyalty and return site visitors, and an improvement in the perception of the online and offline brand."
Webcredible
Founded in 2003, Webcredible (www.webcredible.co.uk) is a user experience consultancy, dedicated to making websites easy to use, accessible to all and ultimately more effective. The UK-based consultancy offers a wide range of services, including user-centred design, usability & accessibility testing, accessible web design, an accessible CMS, as well as a comprehensive training programme.

With almost 200,000 monthly website visitors and a long list of global clients in the private and public sector, including T-Mobile, Norwich Union, eBay, the BBC and the World Health Organisation, Webcredible is widely regarded as one of the most respected consultancies in the user experience industry.

The consultancy brings an unrivalled passion and enthusiasm to their work and their uniquely open and collaborative approach to projects ensures clients can fully understand and contribute to the process while gaining on-the-job training and knowledge transfer.
Press releases you might also be interested in
Weitere Informationen zum Thema "Internet":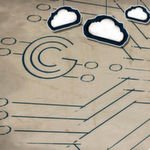 Warum "Minimum Viable Cloud" ein Schreckgespenst ist
Et­wa vor ei­nem Jahr hör­te ich im Rah­men ei­ner Pro­jekt­be­sp­re­chung erst­mals das sch­reck­li­che Akr­o­nym "MVC". Mein Kon­takt nann­te die­se Ab­kür­zung wie­der und wie­der und ich wuss­te nicht, was sie be­deu­te­te. Zu­nächst tipp­te ich auf "Mo­del-View-Con­trol­ler", bis ich lern­te, dass MVC für "Mi­ni­mum Via­b­le Clou­d" steht. Der Be­griff lei­tet sich von "Mi­ni­mum Via­b­le Pro­duc­t", kurz MVP ab, wört­lich ein "mi­ni­mal über­le­bens­fähi­ges Pro­duk­t".
Weiterlesen