At The Online Coal Face With WTG
London

, (PresseBox) -
The Department for Business, Enterprise and Regulatory Reform (BERR) operates two compensation schemes for former coal miners and their families for Chronic Obstructive Pulmonary Disease (COPD) and Vibration White Finger (VWF). To administer these schemes BERR and its contractors work closely with solicitors representing the miners.

These are the biggest personal injury schemes in British legal history and possibly the world, settling around 10,000 claims a month at their peak for ex-miners in the UK. Over 760,000 claims are registered and £3.9 billion in compensation has been paid to date.

Integral to this process is coalclaims.com, a website which helps claimant representatives to manage their coal health compensation claims. The site provides registered firms of solicitors with data underlying the claims, including an up-to-date status of their clients' claims. It is a key part of the e-business structure of the schemes, COPD and VWF and payment of compensation is dependent of the accuracy and completeness of the data. Registered solicitors can view and amend their clients' details on the website to help assist the claim process and avoid some low level administration tasks which would otherwise require BERR's claims handling contractor to do the work.

WTG (formerly the Web Technology Group) was first enlisted in 2003, when it was called Hyperlink Interactive, to help to rebuild the original Coalclaims.com website. This involved a complete recoding, rebuilding the user interface, data structures and hosting. More recently WTG has undertaken a major project to bring the site in line with the latest health and safety directives.

CoalClaims.com The web site was set up in 1999 as an integral part of managing the injury claims process. With such a high volume of transactions to perform, managing and processing data efficiently via the CoalClaims website was becoming a challenge for the Department.

Users and technical staff regarded the sites as slow, unreliable, difficult to navigate and technically problematic to maintain. While new site visitors often struggled to understand how the claims process was supposed to progress.

WTG won the contract to manage and upgrade the CoalClaims site in 2003.

An essential part of this first project undertaken by WTG was the review and update of the technical architecture, comprising of both software and hardware, to ensure that the infrastructure could keep up with the increasing level of transactions. The re-design was designed specifically to reduce the learning curve for new users who were visiting the site for the first time, as well as streamlining the time-consuming process of managing and processing claims. This was absolutely critical as the site was required for at least 10 years.

As part of this initial upgrade, WTG conducted a user training programme across a number of regional centres.

Stakeholder Ownership Following the initial work to upgrade CoalClaims, a comprehensive "Healthcheck" was conducted on the site towards the end of 2006.

Coalclaims had been running successfully since it was upgraded in 2003, but over the years there had been a series of incremental changes. A technical and usability review was required to ensure that the site was still robust and would continue to be effective for a number of years. WTG conducted a comprehensive review and implemented the upgrades in 2007 to ensure the future success of the site.

Upgrade Path Working with BERR, the most important changes were identified taking into account the impact on users and the extended life of the web site. As a result of the recommendations, in 2007 WTG upgraded the software and hardware, rebuilt the interface for ease of reading and accessibility, and included the status of claims on search results and claim homepages for solicitors to quickly scan for changes on their claims.

To improve speed and reliability, the new system was built using Java and JSP, running on a Windows 2000 platform. Coalclaims.com uses XML to manage multiple data feeds with MS SQL Server and access to legacy calculation modules was implemented using .Net services and Citrix. The re-architected system attained new industry standards for enterprise systems - not only was it intuitive, it was technically robust.

Critical Factors for Success Throughout the healthcheck project with CoalClaims, WTG has developed a number of changes and improvements to the site to enhance the process and to ensure that the site was meeting user requirements.

Jamie Melling, Sales Director, WTG, commented: "Whilst the deadline has passed for miners to lodge claims, there are still many claims awaiting settlement, some of which may take up to two years before a successful conclusion is reached. Therefore the site is still critical for solicitors to continue to track the progress of any outstanding claims. It is now updated by Capita who administer the services for BERR, providing information such as requests for more health information for each miner, progress on claims and the details of the claims settlements."

"The big challenge for the team here at WTG, was that we were dealing with a service coming close to the end of its lifecycle. We had to deal with end users of the site who were used to the way it works, but were migrating from entering claims, to their management through the process of settlement. The fact that we are able to ensure that the servers and software are supported and maintained for the life of the project, while ensuring that solicitors can still access the information for their clients, means that we were able to deliver against objective and budget," he concluded.
Web Technology Group
WTG is a business IT consultancy focused on the delivery of innovative web based solutions for the public and commercial sectors. Its strategy is to work with best of breed product vendors in portal, CMS, collaboration and search. WTG delivers solutions to customers that meet their strategic goals by changing the way that companies work using web based technology, connecting the extended enterprise and by providing a secure infrastructure for all business information.
Press releases you might also be interested in
Weitere Informationen zum Thema "Internet":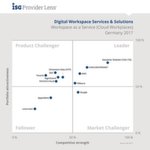 Die führenden Anbieter von Cloud Workplaces in Deutschland
Wie po­si­tio­nie­ren sich die An­bie­ter von Work­s­pace as a Ser­vice bzw. Cloud Work­places in Deut­sch­land? Die­ser Fra­ge sind die Ana­lys­ten von ISG Re­se­arch nach­ge­gan­gen und ha­ben in die­sem Um­feld ins­ge­s­amt zwölf An­bie­ter iden­ti­fi­ziert.
Weiterlesen